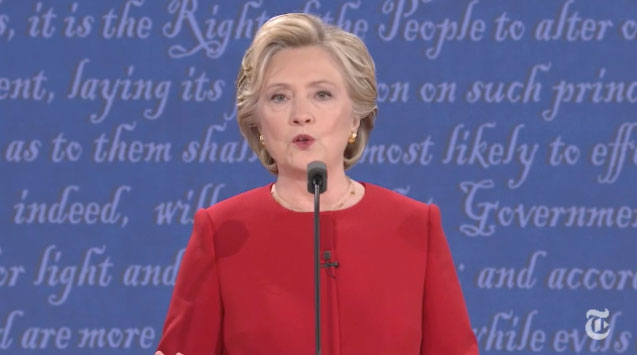 One of the most anticipated debates in history happened yesterday and there were plenty of memorable moments. From the economy to terrorism, the candidates squared off on the big issues affecting our country. Here's a recap of all the best moments.
-Hillary apologized about her emails. The former Secretary of State said, "…If I had to do it over again, I would, obviously, do it differently. But I'm not going to make any excuses. It was a mistake, and I take responsibility for that."
-Trump defended his birther statements and told moderator Lester Holt that, "I think I did a great job and a great service not only for the country, but even for the president, in getting him to produce his birth certificate."
-Trump questioned Hillary's stamina and gave the former First Lady the best mic drop of the night: "Well, as soon as he travels to 112 countries and negotiates a peace deal, a cease-fire, a release of dissidents, an opening of new opportunities in nations around the world, or even spends 11 hours testifying in front of a congressional committee, he can talk to me about stamina."
-People on Twitter were really preoccupied with Mr. Trump's case of the sniffles. Check out everyone's reactions here.
-Hillary faced strong attacks from Trump regarding her husband's support of NAFTA, "He approved NAFTA, which is the single worst trade deal ever approved in this country."
-Trump claimed that Clinton had been fighting ISIS her "entire adult life." Oddly enough, ISIS only came to be after the Iraq war.
Find an entire transcript of last night's debate here.
What did you think of the debates? Let us know in the comments below!
xx, The FabFitFun Team