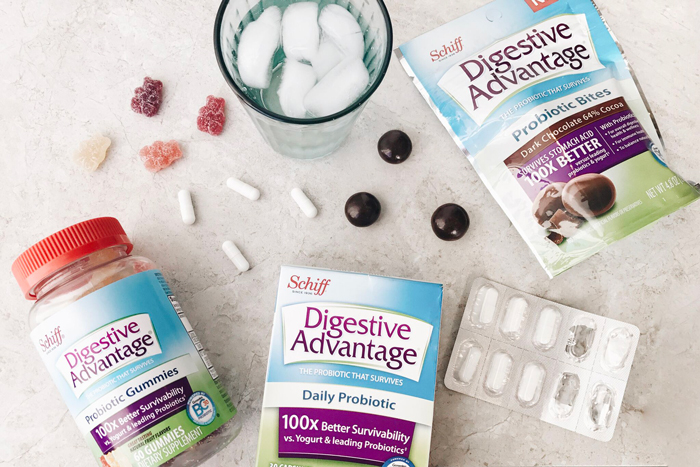 SPONSORED BY DIGESTIVE ADVANTAGE®
Living a healthy life means different things to different people. But regardless of whether someone exercises daily or follows a plant-based diet, there are a few common things all healthy people do to lead a well-balanced lifestyle.
Here are a few things you should incorporate into your everyday routine.
Start your day with a glass of water
You already know to get at least seven hours of sleep so your body can shut down, reset, and recharge. But you should also know that drinking a glass of water right after you wake up is vital to your health. It helps your body cycle through toxins, dispel waste, activate your organs, and aid in digestion.
Take daily probiotic supplements
The foundation of good health and a strong immune system begins in your digestion, so it's time to start incorporating probiotic supplements into your daily diet. Probiotics are good bacteria that keep your digestive health on track and help maintain the right balance of good and bad bacteria. The probiotic range from Digestive Advantage offers gummy and capsule probiotics that survive stomach acid 100 times better than leading probiotics and yogurt.
Go outside
When you're outside, your vitamin D levels rise (which helps boost creativity, relieve stress, and improve mental health), you get more exercise, and you're happier. All it takes is a quick 15-minute walk every day for a healthier you.
Give gratitude
Be grateful! Having a positive attitude helps boost your overall well-being, so try it. Whether you write down what you're grateful for, or counteract negative thoughts by working out or meditating, you'll feel much better from the inside and out.
Occasionally turn off your phone
If you spend more time scrolling through your Instagram than talking to people in real life, it's time to go offline. Studies show that those who are on their phone less are happier, which ultimately leads to better health. Not only that, turning off your phone an hour before you go to sleep stops the blue light from interfering with your body's sleep cycle – so you're guaranteed more restful sleep.
What are some things you do to stay healthy? Let us know in the comments below!
xx, The FabFitFun Team