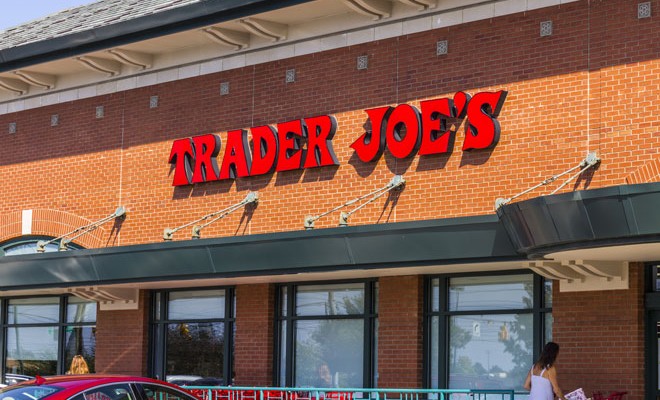 Finding quality beauty products that are both natural and effective is no easy feat.
So the next time you're on a Trader Joe's grocery run, kill two birds with one stone by shopping the beauty aisle as well — you can shop amazing products that use simple and ingredients and it won't put a dent in your wallet.
Below are some of the best beauty finds at your local TJ's:
Head to Toe Balm $3.99
This moisturizing balm is made with a soothing blend of shea butter, mango seed butter, cocoa seed butter, macadamia seed oil, and more. The natural and simple ingredients are safe to use (like the title suggests) from head to toe.
---
Organic Virgin Coconut Oil $5.99
Coconut oil is not only a great essential for cooking, but it also doubles as a super hydrating moisturizer. Trader Joe's Organic Virgin Coconut Oil is made from cold pressing the meat of the fruit, making it as natural as can be.
---
Honey Shave Cream $3.49
This shaving cream is infused with vitamin E and aloe vera to leave you with a clean and smooth shave.
---
Nourish Antioxidant Facial Moisturizer $5.99
This moisturizer was formulated to replenish dry skin with intense hydration. It includes seed oils, glycerin, and water to hydrate and supply the skin with antioxidants.
---
Nourish Spray Sunscreen SPF 50 $5.99
This sunscreen comes in an easy spray bottle for even coverage. Not only that, it contains aloe and vitamin E to provide moisture to the skin without the greasy finish.
---
Micellar Cleanser and Makeup Remover Towelettes $3.99
If you're a fan of micellar water, then you'll love these towelettes. Each wipe is saturated in micellar water for a gentle cleanse. Keep a pack of these handy after the gym to cleanse your skin of excess sweat, dirt, and oil.
---
A MidSummer Night's Cream $3.99
This unscented cream is the cure to rough, dry skin. It's formulated with aloe vera, avocado oil, and jojoba oil to deep condition and hydrate the skin in the most gentle and natural way.
---
Enrich Moisturizing Face Lotion SPF 15 $3.99
This face cream features vitamins A, C, and E to provide skin with hydration while protecting the skin from sun damage. Plus, the formula is great for all skin types and won't clog your pores.
---
Body Butter Trio $7.99
This package includes three scented body butters including Orange Clove, Coriander Cilantro, and Fresh Pear. They're all composed of shea butter, aloe, and coconut oil to replenish your skin with moisture.
---
Refresh Citrus Body Wash $2.99
Take a whiff of orange, tangerine, grapefruit, and lemon with every wash. It'll leave your skin smooth and clean with natural ingredients including vitamin C and B5, chamomile, ginseng, ginger, and essential oils.
xx, The FabFitFun Team