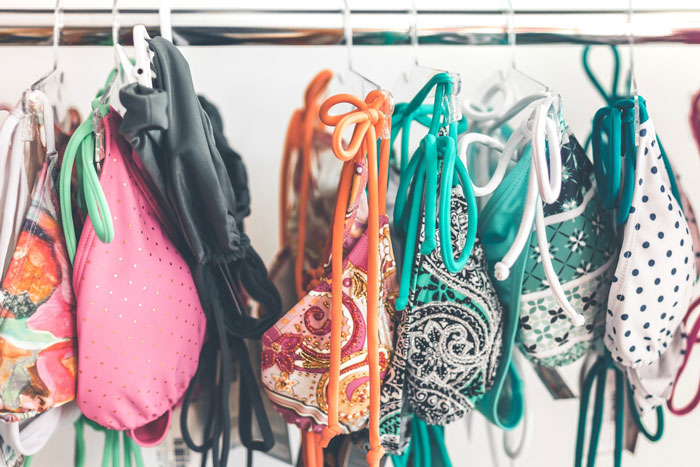 Feature Image by Artem Beliaikin
Now that summer is upon us, you're probably thinking about revving up your wardrobe, including your swim stash (especially if that trusty bikini you've been wearing for years has seen better days).
To help you select a swimsuit that's both eye-catching and flattering to your body type, we tapped celebrity stylist Samantha Brown to break down the top 2020 swim trends for summer –should you need the shopping inspiration, of course.
From high-waisted pieces to off-shoulder suits, these are five trends, she says, are worth keeping on your radar this season.
High Waisted 2-Piece Bathing Suits
Brown says high-waisted bikinis have become extremely modern as they are great for those who want a little more coverage through the middle. With that said, trust this high-waisted bathing suit to provide support and shaping for your midsection, as the verticle seams lift and sculpt with ease.
An exciting dalmatian print definitely keeps this high-waist style interesting, especially since it can spice up any of the basic denim shorts or skirts hiding in your closet.
---
High-Leg Bathing Suits
Swimsuits with high cut hemlines create the illusion of much longer legs, according to Brown, making this style a great option for petite ladies to consider. And with a jaw-dropping high-leg hemline and stretchable nylon fabric, you can expect this tie-dye suit to ensure the most comfortable fit possible.
Trust that this cherry red swimsuit can definitely keep you on-trend all summer long, as it features both a high-leg hemline and an amazing price tag.
---
Underwire Bathing Suits
Underwire bathing suits aren't going away anytime soon, as Brown says they provide an extra layer of lift and support to women with larger busts. And, of course, this suit is a great choice for underwire loyalists to consider, as it features adjustable shoulder straps, molded cups, and hook and loop closure.
You'll never have to sacrifice style for comfort whenever you're wearing this retro one-piece suit, as it boasts both a vibrant floral print and adequate underwire support.
---
Ruffled Bathing Suits
This bikini top adds just the right amount of ruffles to the top, which in turn, gives your bust some added oomph without any padding. "Strategically placed ruffles will draw the eye; they can help add volume to smaller chests and help make athletic body types appear more feminine," she explains.
---
---
One Shoulder Bathing Suits
One-shoulder bathing suits are also making a comeback this summer, as Brown suggests they draw attention to the face and perk up basic essentials in your summer wardrobe. After all, there is no denying that this one-piece looks just as great in the pool as it does on your next date night out on the town, especially when you pair it with a long silk skirt and heeled sandals.
---
Sleeved Bikini Tops and Bathing Suits
---