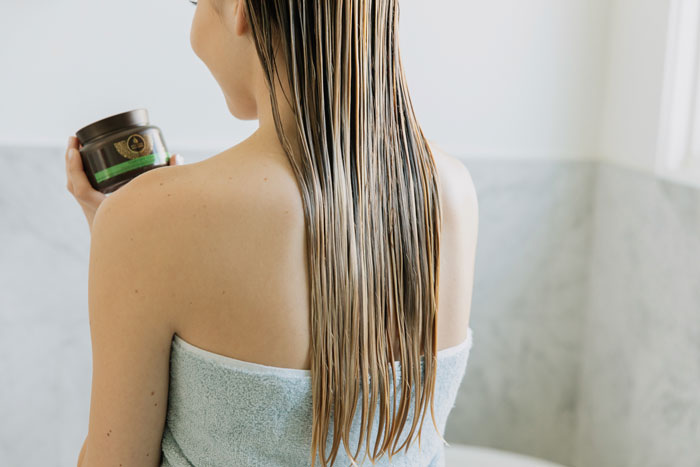 WINTER 2018 BOX PARTNER
The process of growing your hair can seem like a long, arduous task, but with a little know-how and some insider hair care tips, you can be on your way to a Rapunzel-like mane in no time.
Don't believe us? Here are five ways you can help your hair grow faster.
Keep your scalp clean
"A healthy scalp allows existing hair follicles to grow and new follicles to generate," says Jonathan Balva of Moroccan Gold Series. Use deep-cleansing shampoos or scalp scrubs to wash away product buildup and dirt to ensure your scalp is squeaky clean.
Use less hot tools
"Less blow drying and use of hot tools will help with preventing damage, breakage, and hair fall," says Ryann Holmes of Oribe. Use products like the Oribe Gold Lust Dry Shampoo to instantly clean hair while extending your blowout (yep, it's that easy!).
Ditch the hot water
"We tend to wash with hotter water in the winter months, which adds sensitivity to our already-dry scalp and hair," explains Christina Ceja-Compin of Oribe. Stick with warm water for the majority of your shower, then rinse your hair with cold water at the end to help seal the hair, preventing extra moisture loss.
Treat your hair to a mask
From curling irons to hair dye, your tresses take on a lot of damage, so it's important to give it some TLC. After shampooing your hair, use nourishing hair masks like the Moroccan Gold Series Treatment Mask. It combines argan oil and keratin components to rejuvenate hair that has been damaged by heat, chemicals, and coloring treatments.
Get frequent trims
"By giving your hair more regular trims, you can prevent breakage and split ends that would otherwise work their way up your strands and require more haircuts," says Balva. "Trimming just an eighth of an inch every 10 to 12 weeks helps prevent breakage and split ends."
xx, The FabFitFun Team
Psst! Have you signed up for FabFitFun yet? Don't miss out on $200+ in amazing beauty, fitness, fashion, and lifestyle products, access to exclusive fitness and cooking content on FabFitFunTV, members-only sales, and more. Join today!
To get the most out of your box products, make sure to check out the Insider page.