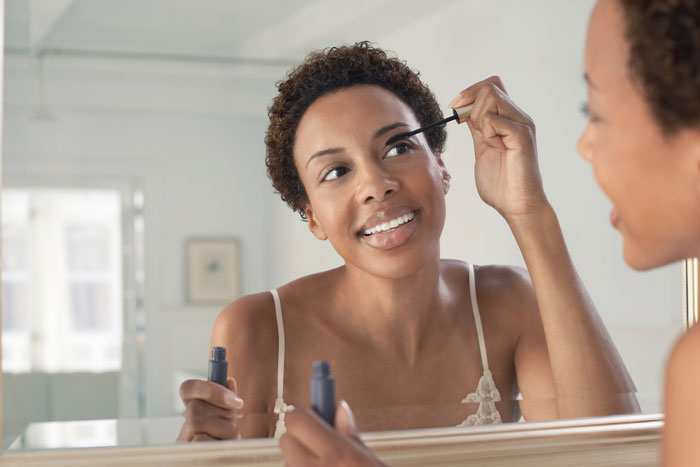 As much as we love our favorite makeup products, there's no denying that sometimes we can get a little heavy handed.
So how on earth do celebrity makeup artists create such natural-looking makeup looks? To find out, we chatted with Carmindy Kathryn Bowyer, founder of Carmindy Beauty, for her expert tips.
Wedge sponges make a world of difference
"[Applying] a liquid foundation with a non-latex wedge style sponge allows you to buff and polish it over the skin so it never looks cakey or heavy," says Bowyer. "Round sponges tend to lay it on too thick, as do foundation brushes."
Always opt for translucent face powders
"When using face powder, choose one that has no pigment, so it does the job of erasing shine and setting makeup without leaving an extra layer on the skin," explains Bowyer.
Foundation first, concealer second
"Always apply concealer after foundation, as you won't use as much," instructs Bowyer. "If you cover up everything with concealer before the foundation, you are adding on too many layers."
Highlight, don't contour
"Highlighting the face is more natural-looking than contouring," Bowyer says. "Also the lightness of a highlighter in contrast to your natural skin will give the illusion that you're sculpted."
Use two-in-one products for a natural look
"Using a rosy cream color stick for cheeks and lips doubles up for a natural kiss of color to the face," explains Bowyer.
Layering is for necklaces, not makeup
"Adding too many layers of products results in cake face," says Bowyer.
Heavy powders should have no place in your routine
"Heavy matte face powders make skin dull and old looking," explains Bowyer.
Don't go overboard with eyeshadow
"Wearing more than three eyeshadows at once looks too heavy," says Bowyer.
Use a brow gel
"Drawn-on, perfect-looking brows look very unnatural and can look alarming to others," notes Bowyer. Instead, try eyebrow powders or a brow gel for a softer, more natural look.
xx, The FabFitFun Team