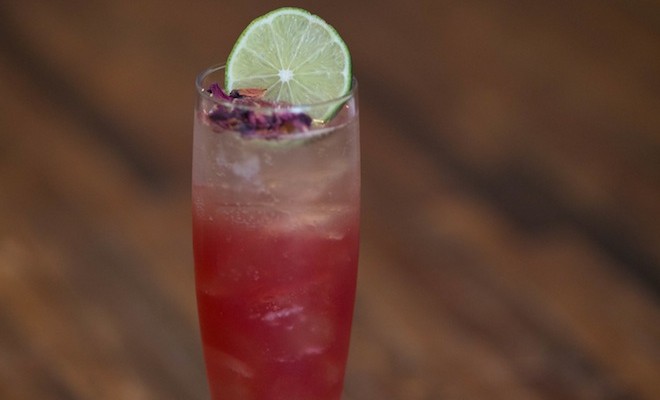 TV shows are way more fun to watch when a drinking game is involved — especially if The Bachelor is in question. Let's be real…how are we supposed to get through all the drama without a chilled cocktail in hand?
Luckily, True Food Kitchen crafted a delicious beverage for us to indulge in every Monday night. The "War of the Roses" is a concoction of rose petal syrup, Prosecco, and pomegranate vodka, which makes it have just the right amount of sweetness to get through the two hour episodes.
So mix up this fruity and floral cocktail the next time you have the gals over for a viewing night!
War of the Roses recipe courtesy of True Food Kitchen
Ingredients
1/2 ounce lime juice
1 ounce rose petal syrup (recipe below)
1/2 ounce POM juice
1 1/2 ounces pomegranate infused vodka
Prosecco
Directions
1. In a shaker, combine ingredients and shake until blended.
2. Strain over new ice into cocktail glass and top with Prosecco.
3. Garnish with lime wheel and floating rose petals.
Rose Syrup Recipe
Ingredients
30 grams rose petals
500 grams sugar
20 ounces water
Directions
1. Combine ingredients in a pot and place on stove.
2. Bring to a boil and let simmer for 20 minutes.
xx, The FabFitFun Team