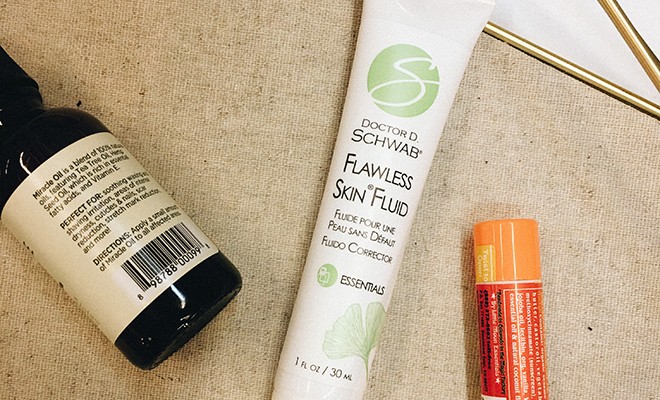 Has your skin been acting up or just feeling kind of blah lately? Maybe it's time to switch up your skin care routine!
Doctor D. Schwab (featured in our Welcome Box V.2!) boasts a green skin care line that features many organic and paraben-free products, made to keep your skin feeling and looking good.
Follow these simple steps for refreshed and rejuvenated skin…oh, and a happier you!
Step 1: Remove Your Makeup
It's an obvious first step, but you'd be surprised to learn that many head straight to cleansing. We get it, though. You're too tired to remove your makeup, but if you don't, you're likely to leave traces of makeup behind that can cause breakouts. Use the Doctor D. Schwab's Azulene Eye Makeup Remover to gently take off all your makeup.
Step 2: Cleanse Thoroughly
If you have especially sensitive skin, use a gentle cleanser like this one. Cleansing with a product that's too strong can dry out your skin or cause more blemishes, which is what cleansing is supposed to prevent. Use the Ginkgo Mask before cleansing if you want to revitalize skin with vitamins.
Step 3: Tone, Tone, Tone
This is an important step that many people tend to skip! Not only does it remove those last little bits of makeup and excess oil, but it also keeps your skin's pH balanced. Dr. D Schwab's Herbal Toner is gentle yet effective, and it'll prep your skin for any serums and products you'll be applying next.
Step 4: Apply a Serum
This step is definitely underrated. It's often targeted to your specific skin care problems and can be total lifesavers! We recommend the Dr. D Schwab Alphasomes® C-8 Sensitive Skin Serum to reduce irritation and prevent environmental damage.
Step 5: Use an Eye Cream
You might assume you don't need to use an eye cream until you see visible wrinkles, but this is so not true! Eye creams like this one can reduce dark circles, and can prevent future signs of aging.
Step 6: Moisturize!
Please, please don't skip this step. Ever. Oily-skinned folk often avoid moisturizers because they think it'll make their skin oilier — it's quite the contrary. Skipping this step just causes your skin to produce more oil, so use a lightweight moisturizer like Dr. D Schwab's Flawless Skin Fluid® (you can snag this in The Welcome Box V.2!) to keep your skin soft and dewy.
xx, The FabFitFun Team
P.S. Psst! Have you signed up for the #FabFitFun box yet? Don't miss out on $200+ in amazing beauty, fitness, fashion, and lifestyle products every season. Join today!
To get the most out of your box products, make sure to check out the Insider page.