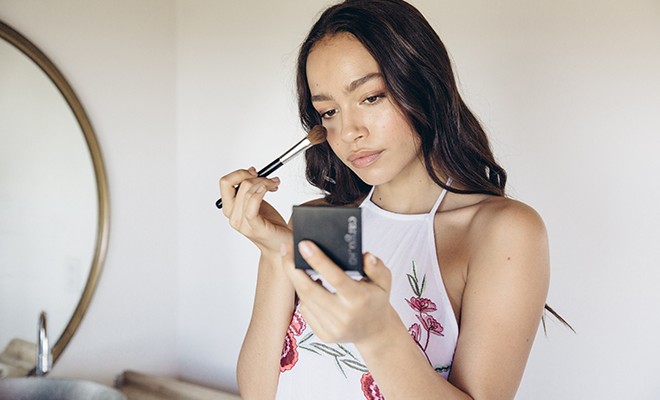 Packing for a trip is hard enough, but packing your beauty products is even more stressful. What do you take and what do you leave behind? What should you take with you on the plane? Do you really need to bring five different moisturizers? Take a breath! Believe it or not, you don't need to pack every detail of your beauty routine into your suitcase. Check out our tips below and happy travels.
How to pack your beauty items
You never know what the altitude will do to your products, so always play it safe.
1. Pack your liquids separate from your dry products.
2. Place all your liquid products in a plastic baggie or use plastic
wrap.
3. We like keeping our beauty products in the side compartments of our luggage. It contains any mishaps and it makes your products easily accessible.
What to take on the plane
We have one rule of thumb: Hydration. The air in the plane is stale and dry, and at some point you'll need reinforcements. Here's our list of must-have products:
Hydrating mist. Take a mini bottle with you to spritz on as needed. Try to find one that has coconut water or aloe. Hand lotion. We all know how airplane soap dries out your hands, so bring a travel size lotion to battle cracked, ashy skin.
Lip balm. Ever wake up to super chapped lips after a 10-minute catnap? We feel you. Stay hydrated and keep your favorite lip balm handy. We like using balms with peppermint because the minty kick keeps our lips feeling refreshed.
Sheet mask. This is a neat trick to look super refreshed after a long flight. We have a strict no makeup policy for long flights, so a mask is the perfect way to help you glow as you deplane. Just put it on 30 minutes before you land and voilà, bye bye plane face.
Tips for Different Climates
If you're going to a humid climate. Sweat-proof products are key here. Stick to oil-free product and pack waterproof mascara and oil absorbing sheets. Keep your makeup routine light so you're not constantly checking the mirror while you're out. Cargo_HD Picture Perfect Highlighter is super light and has special pigments that give you a picture perfect finish for all those vacation selfies you're probably taking. Also, dry shampoo (we never travel without Klorane) is your ultimate travel friend, no matter what climate you're in.
If you're going to a dry climate. The most basic thing you can do is drink more water. Keep a water bottle like the bkr bottle glued to your hip because hydrating internally will reflect externally. Also, use the hydrating mist you brought on the plane and use beauty products that contain aloe. We also like taking a small bottle of hydrating serum to mix with our foundation or moisturizer. Or you can just use it on trouble spots.
Eye cream, no matter the climate, is our secret weapon. It's hard adjusting to time changes, so an eye concentrate like the one from Juice Beauty is a must for reducing dark circles and puffiness #youcanthankuslater.
xx, The FabFitFun Team
P.S. Psst! Have you signed up for the #FabFitFun box yet? Don't miss out on $200+ in amazing beauty, fitness, fashion, and lifestyle products every season. Join today!
To get the most out of your box products, make sure to check out the Insider page.