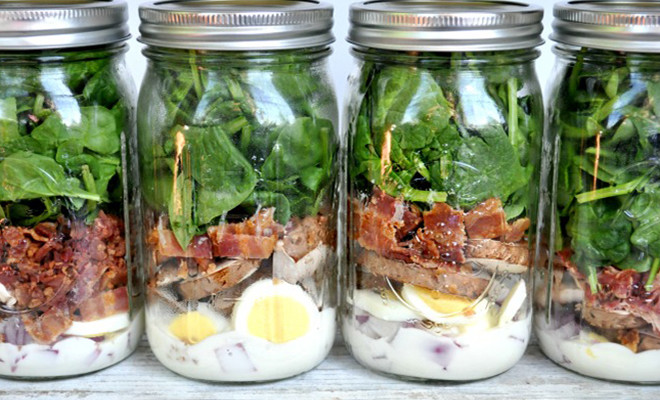 Tupperware is so 2000 and late. Well, that's how it feels when we see beautifully planned out meals stuffed into chic mason jars on every Pinterest board.
We're definitely fans of the trend, though. Mason jars are portable, sturdy, and perfectly display an amalgam of colorful foods layered on top of each other. We found some delicious, Pinterest-worthy recipes that are perfect to prepare for lunch. Just pop them in the fridge and shake it up when you're ready to eat!
Your co-workers will be envious of your picture-perfect meals.
Chicken, Apple, and Pecan Salad in a Jar
You'll love this crunchy, juicy, and nutritious summer salad that won't get wilted or soggy for hours.
---
Southwest Zucchini Noodle Mason Jar Salad with Avocado Dressing
This great low-carb option has a to-die-for creamy avocado dressing that sits on the bottom of chicken, black beans, and any other veggies you want to toss in.
---
Mexican Vegan Burrito Bowl Mason Jar Salad
Bring your own version of Chipotle by layering your fave ingredients to make the most colorful yet scrumptious lunch ever.
---
Spinach and Bacon Mason Jar Salad
There's a reason good ol' Cobb salad is a mainstay on so many menus. It's satisfying yet the ingredients are simple so there's no excuse to not make this for yourself.
---
BBQ Ranch Chicken Mason Jar Salads
This recipe combines so many ingredients to make it the perfect lunch for those days when you can't quite decide what you're in the mood for.
---
Rainbow Fruit Salad in a Jar with Citrus Yogurt Dressing
If you're craving a sweet, lighter lunch, then this satisfying fruit jar has your name on it! Pick seasonal fruits and toss them in delish citrus yogurt for an afternoon pick-me-up.
---
Mason Jar Zucchini Noodle Salads
Add some grains to your typical salad with this quinoa zoodle recipe. The scallions and coconut flakes add such a boost of flavor you'll create this recipe again and again.
---
Antipasto Mason Jar Salad
Antipasto fans, you're in for a treat! This recipe is an amalgam of all your favorite meats, cheeses, and marinated veggies. The best part? It's so easy to eat — no mess here!
---
Thai Noodle Salad
Marinate this dish overnight, so the flavors of lime, cilantro, and mint soak into the noodles. Add your favorite protein for the perfect midday meal!
xx, The FabFitFun Team