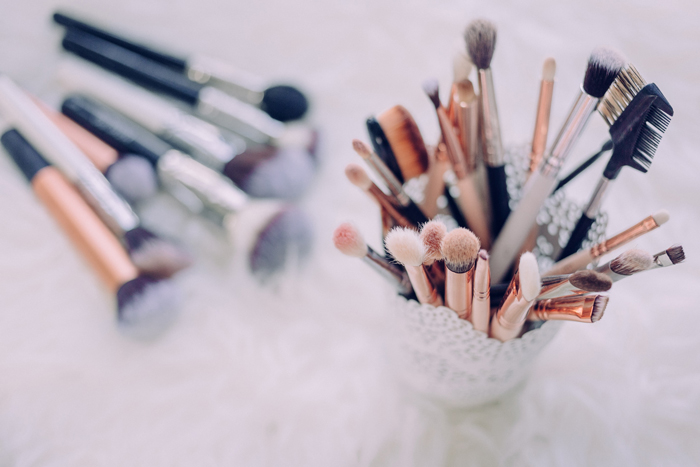 As you age and your skin texture changes due to fine lines, wrinkles, and dryness, it's important to adjust your skin care and makeup routine to benefit your skin's new needs. Don't worry, though! It's really not that difficult. We spoke with three professional makeup artists to get their best tips, tricks, and products to create a flawless makeup base for mature skin. With a few small tweaks, you'll be able to achieve a beautiful, smooth base in no time.
Finesse your skin care routine
"The most important thing people with mature skin should focus on when creating a smooth, flawless makeup base is having a regimented skin care routine," says makeup artist and CTZN Cosmetics founder Naseeha Khan. As your final skin care step, celebrity makeup artist Justine Hill recommends an illuminating moisturizer like IT Cosmetics Confidence in a Cream Rosy Tone Moisturizer.
Use the right primer
Primers were essentially developed for the very purpose of creating an even makeup base. "Priming the face after skin care and before foundation is essential to creating a smooth canvas," celebrity makeup artist Nydia Figueroa says. "A primer works to help minimize the look of large pores and fine lines and helps the base last all day. Think of double-sided tape for your face. It locks in your skin care and locks on your makeup."
However, not all primers are made equally. Some may enhance pore, wrinkles, or fine lines, as Khan points out. So she recommends an illuminating primer like Jane Iredale Smooth Affair Facial Primer & Brightener. She also notes that when applying an illuminating primer, avoid applying it to the center of your face. "This will make your pores appear more noticeable and the skin will look oily as opposed to dewy," she explains.
Avoid powder products
If you want to play it safe, stay completely away from powder products. "I would also recommend sticking to cream-based products versus powder products, as powders can be drying and make the skin appear more aged and set into fine lines easier and make them more prominent," Khan says.
However, if you want to use a powder, Figueroa says that a light setting powder should just be applied to oily areas such as the T-zone and the sides of your nose. "The goal is to keep the skin looking hydrated and fresh so the best tip is to press powder onto the areas where there is oil only," she explains. "Using a smaller powder brush helps with this so you can create precise coverage."
Use a beauty sponge or soft bristle brush to apply makeup
"Using the correct tools make all the difference creating an even application," Figueroa explains. "Makeup brushes that are denser will provide full coverage so I would stick to a sponge and soft brushes to lightly layer product on the skin." She favors the "holy grail of all beauty sponges" the beautyblender® and Moda Pro Buffer Brush. "It is used to buff in makeup and can be used to build coverage as well," she explains.
Less is more
An easy lesson to live by, all the pros agree that less is more when it comes to applying makeup to mature skin. You always want to keep it light and natural. "I have seen people struggle with how much product they should use," Figueroa explains. "My rule of thumb is that less is truly more and just use where you need it. You can still get a perfect complexion without it becoming a mask."
xx, The FabFitFun Team