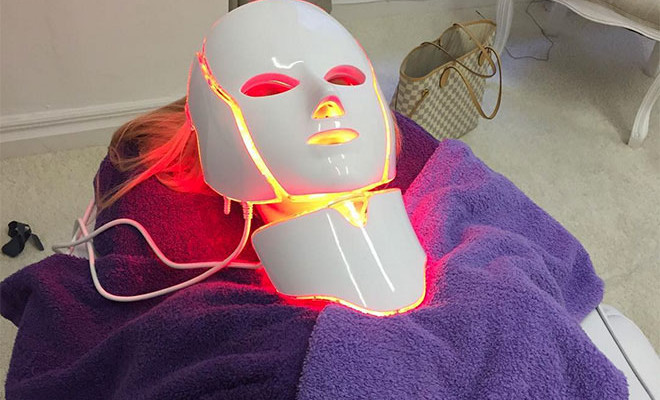 @theskinbar1
Beauty trends amongst celebrities can be pretty over the top, but have you heard of LED face masks? It sounds scary, but this beauty trend has actually received raving reviews from stars like Jessica Alba to Kourtney Kardashian.
We're not going to lie — we initially had a WTF reaction when we came across these face masks on Instagram, but after we learned about the benefits of LED, we had to find out if it actually works.
LED masks (also known as Color Light Therapy) basically utilize UV-free wavelengths to boost collagen in the skin in order to fight aging, target acne and bacteria, and address many other common skin ailments such as inflammation and sun damage.
LED masks offers three different "colors" or treatments:

Red Is Used for Anti-Aging
The red LED light penetrates into deep layers of the skin to aid in the production of collagen while increasing circulation and rejuvenating the skin overall.
---
Blue Is Used to Kill Bacteria
The blue LED light targets bacteria, helps to treat acne, mitigates inflammation, and purifies the skin all around.
---
Pink Helps Speed up Healing
The pink LED light helps to calm and soothe the skin — adding a boost to the healing process and leaving skin rejuvenated.
The question now remains: Does it actually work? According to celebrity esthetician Shani Darden, you can visibly see benefits after just 20-30 minutes under the LED light. Now that's impressive! And in this case, the trend totally lives up to the hype.
Would you try the LED face mask? Let us know in the comments below!
xx, The FabFitFun Team