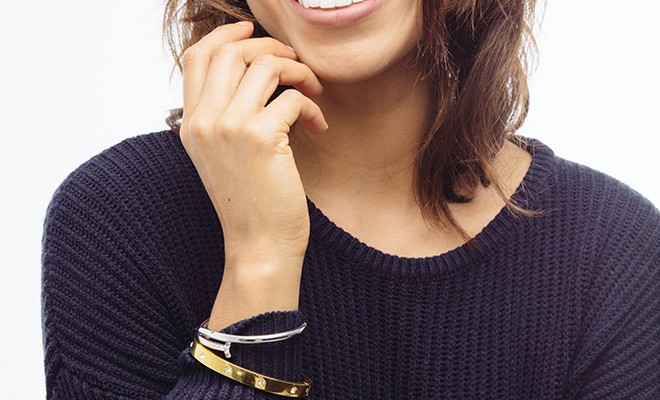 You can never go wrong gifting jewelry, seriously. From your BFF to your mom, some bling bling is always a great surprise.
But we admit that it can be difficult to pick the right piece for each person on your holiday shopping list. Luckily, our Winter Add-Ons program currently features a ton of versatile pieces — from statement necklaces to chic bracelets. So don't forget to sign up today and get instant access to some pretty awesome discounts.
Adia Kibur Chloe Necklace $55
This statement necklace is for the bold ladies in your life. Beautiful red and pink gems will stand out at their next holiday party or night out.
---
CC Skye Infinity Pendant $150
Sometimes simple is better. This dainty and adorable diamond-studded infinity necklace will go with just about any outfit — and it's also the perfect gift for the no frills lady in your life. She'll treasure it for eternity, we promise.
---
Adia Kibur Lianna Necklace $48
Statement necklaces can be hard to style, but this one is super versatile. The muted colors make it possible to pair with almost anything, so get it for a friend that loves to dress up but hates to coordinate jewelry pieces.
---
Sterling Forever Classic Station CZ Bangle $86
Grab this bangle for a bracelet-loving lady that wears a lot of classic clothing. It will pair well with watches and other bangles, but it also looks super chic on its own.
---
Sterling Forever Brilliant Sphere Ear Crawlers $45
How pretty is this piece? It gives the illusion of a bunch of piercings along your ear, but with just one earring! Snatch this up for the trendsetter in your life.
---
Vanessa Mooney Sophia Necklace $80
This delicate necklace is perfect for any Pisces or turquoise lover. It's simple, but has a nice boho vibe that will complement the girliest of dresses and coziest of sweaters.
---
Sterling Forever Thin Black Velvet Choker $49
Chokers are super on trend right now. This necklace will fit your most lovable selfie queen.
---
Adia Kibur Olivia Necklace $48
How awesome would this piece look layered over a turtleneck? This unique necklace is for the most special woman in your life. Get this for someone who has a personality that's as one-of-a-kind as her wardrobe!
---
Sterling Forever Gold Nail Bangle with CZ $65
Nailed it! Yep, that's what your BFF will say when she unwraps this.
---
Vanessa Mooney Elliot Necklace $80
The combination of simple and chic make this pick totally golden (no pun intended). Gift it to your friend who loves to layer jewelry!
---
Sterling Forever Gold and Leather Chain Choker $49
The gold chain on this choker will add an edgy vibe to anything in your wardrobe. Wear it for a casual night out, or to spice up a date night outfit.
xx, The FabFitFun Team