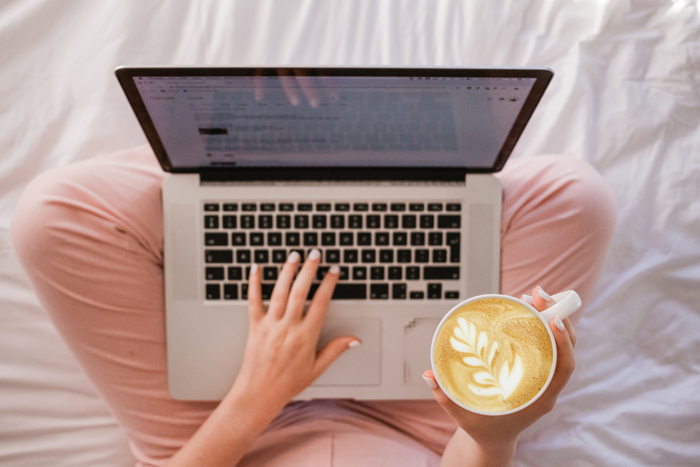 Feature Image by Sincerely Media
In a time of social distancing and staying at home, online shopping has never seen better days than these. As thrilling as receiving the perfect product in the mail can be, online shopping can quickly begin to weigh on the wallet. That's where we come in. Check out these hacks to save some cash.
Check out Honey
We're pretty convinced that Honey is the best thing that's happened to coupons since, well, whenever coupons started. Just add Honey as an extension on your browser, and it will pop up to notify you if it has found any promo codes to test. With one more click, Honey will test out all those codes to find the one that will save you the most money. Another great perk? "Honey rewards you simply for doing the shopping you were going to do anyway. You collect these rewards in the form of Honey Gold, which you can redeem for gift cards to places like Target, Sephora, Amazon, and more!" shares Katie Spence, a travel and fashion blogger.
Download Invisible Hand and Pop Cart
Andrea Woroch, a nationally recognized money-saving expert says, "Online retailers are constantly fluctuating prices to maximize sales and profits, and this is commonly referred to as dynamic pricing. If you aren't paying attention to prices, you are likely paying more than you have to when shopping online. Download the Invisible Hand or Pop Cart tools to your browser for instant price comparison notifications when you're browsing items online."
Tune into DealNews
Looking for something in particular? Or even just a favorite type of item? Julie Ramhold, a consumer analyst, offers, "Use DealNews to set alerts for items you're looking for. You can set them based on filters like category, store, brand, keywords, and even price range. You'll know about great deals right away and can snag them before they sell out. Additionally, you can turn on the Interests setting on DealNews, so you only see deals for categories you're interested in."
Download the Shopkick app
Shopkick rewards you with points (called kicks) that accumulate and transform into gift cards from your preferred retailer. In addition to getting kicks from shopping online, you can also get kicks from walking into stores, scanning receipts, and engaging with app content. Once you earn a gift card, it gets delivered right to your phone for easy use online or in-store.
Try RetailMeNot's Deal Finder
The longrunning coupon code website has come out with its own browser extension to test and apply the many coupon codes and offers that live on its popular pages. RetailMeNot's site also often lists sales in addition to coupon codes.
Sign up for Rakuten
What you might remember as Ebates is now Rakuten. Just shop using Rakuten's free extension, and they share their referral commission with you when you make a purchase. You can get cash back from brands you know and love like Nike, Target, and more.That cashback goes right into your account, where you can deposit your earnings via PayPal or a check.
Leave items in your cart for two weeks
Becca Forst, a personal finance blogger, advises, "Set this rule: Anything that you do not need immediately should stay in the cart for at least 14 days. Try to reevaluate if you really need them after two weeks. What's also cool is you sometimes get nice discounts when you abandon the product after you add them in the cart. Vendors are motivated to get you to purchase by using coupons and discounts."
Sign up for a brand's email list
More often than not, if you sign up for a retailer's email list, they'll offer you 10% off your first purchase.
Do you have any tips on saving money while shopping online? Let us know in the comments below!
xx, The FabFitFun Team