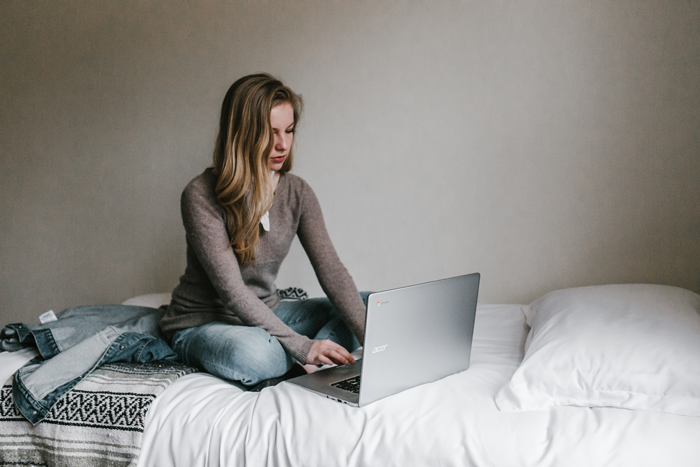 Feature Image by
Andrew Neel
Job hunting is hard. It doesn't matter the time of year or if you already have a job or not, but it's another full-time job in itself. Applying to jobs takes a lot of concentration, organization and a bit of discomfort.
However, you can make the process a bit easier by following the five tips below! With the right mindset and tools, you can be confident that you'll find the job you're looking for this year. 
Keep track of your applications
How many times have you applied for a job, forgot about it, then got an email from the recruiter but you have no recollection of what job they're referring to? Probably too many times to count. You should keep track of all the jobs you apply to in a Google Doc or Excel spreadsheet. Make lists of your contacts, the companies they're at, where you've applied and how you found that job. Plus, keeping records of everything will help you stay on top of following up with recruiters.
Take advantage of LinkedIn
You should be as active on Linkedin as you are on Instagram or Facebook. Update your profile, interact with other people in your industry and post updates with relevant information related to you and your job hunt. If you want to take your LinkedIn game up to the next level, try out Linkedin Premium as it gives you more flexibility including cold-emailing and access to recruiters and HR managers.
Join networking groups
Facebook is not just for your family's digital photo albums. There are countless professional groups on that are filled with experts waiting to give advice. Join a group (like Create and Cultivate) that is relevant to your industry and/or your location. You never know who is going to post a job that might interest you, or who is going to give excellent advice. 
Update your resume
This should go without saying but if you're in the market for a new job, your resume needs to look its best. After you update it with relevant experience, head to one of your Facebook groups and have your peers look it over as they may catch typos and mistakes you might not have initially found.
Create a portfolio
If your industry calls for it, you should create an online (or hard copy) portfolio of your best work. It could consist of examples of your work, reports, essays or anything that shows your talent and dedication to your career. Take time between interviews and writing cover letters to put together a portfolio that impresses employers; it shows them that you're passionate and serious about your work. Going that extra mile could make all the difference.