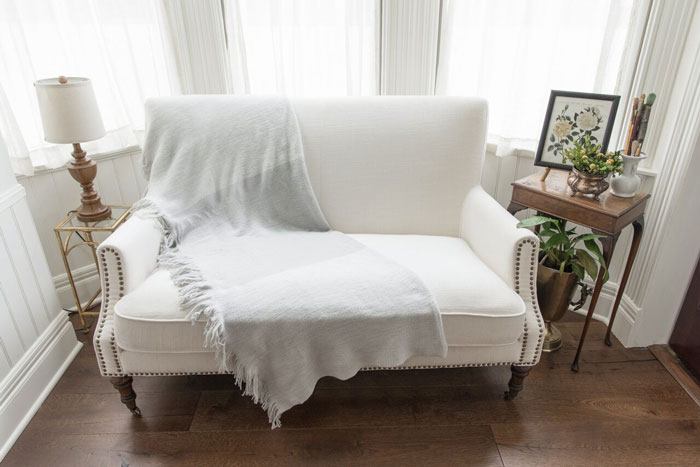 WINTER 2018 BOX PARTNER
Home is where you typically spend time decompressing from the chaos of your day, so make sure your space reflects the tone that you want to set for your well-being.
If the physical space around you is cluttered and disorganized, it will reflect in your mind and body. Here are three ways you can create spaces of intention in your house that we know will get you through winter (and onwards!).
Find your center
Establish a "spot" in your living space. Whether it's a comfy bean bag chair or that little nook in the kitchen, place items in that space that'll bring you peace and comfort. Keep your favorite scented candle close by or drape the Mark & Graham Colorblock Throw across the corner of the couch. By designating your "spot," you'll have a mental place of retreat every time you come home, so you can instantly get into relaxation mode.
Bring the outdoors, indoors
Get some greenery! Winter can feel very bare, so fill your space with plants that you can keep into spring and summer. Succulents, ferns, and peace lilies are just a few examples of houseplants that can easily brighten up your home. Place the plants next to your bathtub, on your living room table, or on your nightstand.
Also, try incorporating the outdoors into elements of your décor. The Chic & Tonic "I'll Coast To That!" 4-Piece Coaster Set is made of natural wood so you'll feel like you brought a little piece of nature into your space!
Aromatherapy
Better sleep, more self-confidence, less stress – these are just a few positive effects that show the power of scent. The WAY OF WILL Elevate Essential Oil Set includes a Sweet Orange Oil and Eucalyptus Oil that you can simply dab on the skin to give yourself a little aromatherapy. If you want to create a zen space in your house, use a few drops of the oils in a diffuser to fill your room with an aroma that relaxes and calms you.
xx, The FabFitFun Team
Psst! Have you signed up for FabFitFun yet? Don't miss out on $200+ in amazing beauty, fitness, fashion, and lifestyle products, access to exclusive fitness and cooking content on FabFitFunTV, members-only sales, and more. Join today!
To get the most out of your box products, make sure to check out the Insider page.