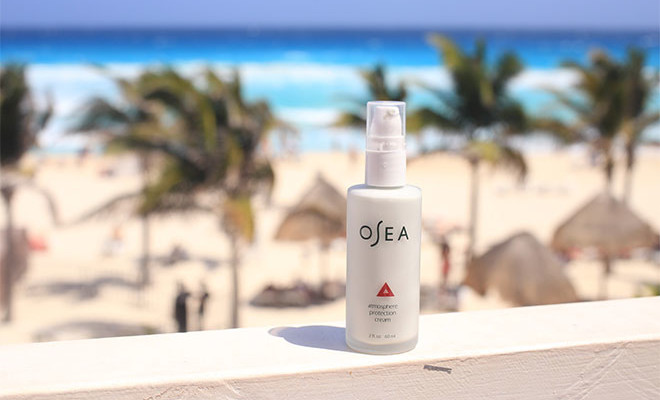 We all know about vegan diets, but how much do you know about vegan beauty products?
Not only are they helpful to the environment, but vegan picks are great for your skin. You can (literally and figuratively) feel good about using them because you're not beautifying yourself with toxic, synthetic ingredients.
We had a chance to chat with Jenefer Palmer, founder of plant-derived vegan product line OSEA, and she gave us the tops reason why you need to go vegan with your beauty routine.
It's truly cruelty-free
"Many skin care companies claim to be "cruelty-free," but we maintain that you can't be truly cruelty-free unless the ingredients you use are also plant-based vegan."
You protect the planet
"Vegan skin care is eco-friendly. To produce one pound of animal protein vs one pound of plant protein? It takes about 12 times as much land, 13 times as much fossil fuel, and 15 times as much water!"
It's good for your skin
"Animal-derived ingredients can be allergenic, skin reactive, and clog pores."
It nourishes your skin, naturally
"Using plant-derived, active botanicals, and essential oils nurtures your skin with all of the antioxidant-rich goodness nature has to offer. OSEA vegan products are made in small batches, with minimal, food-grade preservatives, thereby feeding your skin with the most active, potent and bioavailable ingredients possible."
You'll look and feel great
"It's amazing the outward glow conscious living can give you. People talk about "high vibrations" and it's kind of true. When you know you are using skin care made by a conscious company you feel good and look even better!"
OSEA's Atmosphere Protection Cream is available in the FabFitFun Summer Box. Get yours now before it sells out!
xx, The FabFitFun Team
P.S. Psst! Have you signed up for the #FabFitFun box yet? Don't miss out on $200+ in amazing beauty, fitness, fashion, and lifestyle products every season. Join today!
To get the most out of your box products, make sure to check out the Insider page.