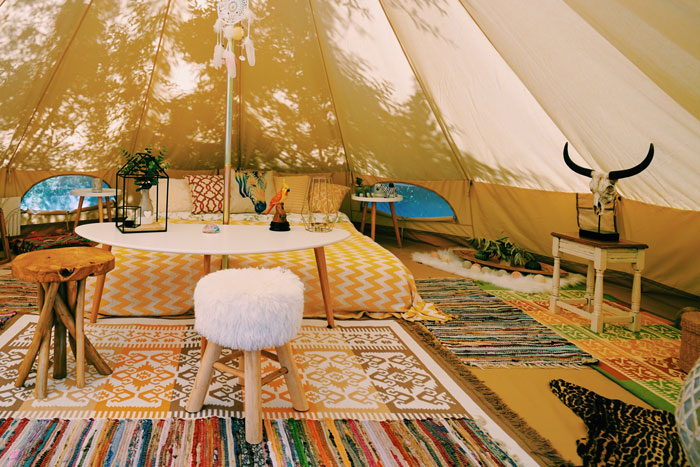 SUMMER 2019 EDITOR'S BOX PARTNER
Exploring the outdoors and camping adventures are great and all, but for those of you who appreciate the more glamorous things in life, roughing it in the wilderness might not be your idea of "fun."
"Glamping," however, might make you reconsider. It's a form of camping that involves more luxurious accommodations and facilities, so, yes, you can still enjoy nature without sacrificing comfort – and with a little help from modern essentials.
Here are five things you should take on your next "glamping" trip!
Cooking utensils
No camping trip is complete without baked beans, s'mores, and all the yummy fixings you can make with a skillet and fire pit. For all the simple yet messy cooking to come, pack reusable utensils like the Architec™ Wooden Spoons. This set comes with five different kitchen spoons made of bamboo wood, so you can cook up every outdoor meal with ease.
Bluetooth speaker
What's "glamping" without music? While you're kicking it with your best friends in the woods, turn up the tunes with a portable speaker like the Speaqua Cruiser Bluetooth Wireless Speaker. Its pocket-friendly design won't take up too much room in your duffle, and the powerful audio is sure to get the party going.
Stainless steel wine glasses
Yes, you can sip on your favorite vino in the forest too. Swapping glass cups for stainless steel ones will help you avoid any broken glass and keep your drinks cool. Plus, they're less wasteful than plastic solo cups.
Air mattress
No "glamping" goddess would choose to sleep on the rocky ground, right? Pump up an air mattress to get comfortable and cozy while you snooze in your sleeping bag.
Battery-powered fan
There's nothing worse than being stuck in a stuffy tent during the hottest months of summer. Keep yourself cool with a portable battery-powered fan you can place in the corner of your tent for maximum comfort.
xx, The FabFitFun Team