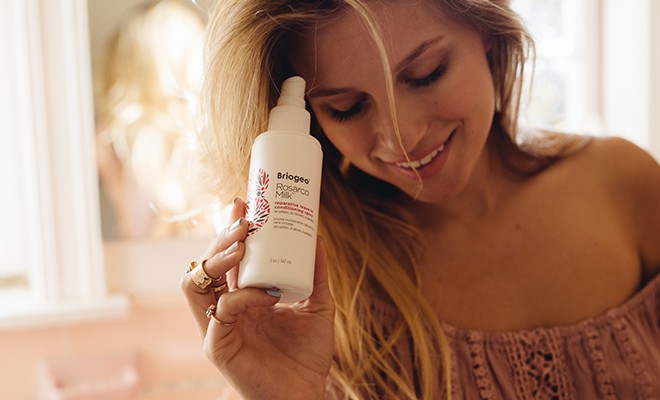 Achieving flawless hair is definitely easier said than done…trust us, we know the struggle is real. But keeping your strands happy and healthy makes all of the work you put into it so worth it.
Of course, no single method works for everyone, but add a few of these steps into your hair care routine, and we can guarantee your locks will look luscious in no time!
Pull your hair up in the shower. After you've washed with shampoo or no-poo, apply an ample amount of conditioner to your hair, and wrap it up in a bun (if it's long enough) so that the hair doesn't hang on your shoulders and back. It'll help make sure your hair, from root to tip, is really soaking in all of the softening effects and nutrients from the conditioner. It's also a great way to help diminish those bacne breakouts.
Use a comb instead of a brush. Once you're out of the shower (or whenever you're detangling, really) make sure to use a comb to get rid of those pesky knots because a paddle brush will do more harm than good. Stroke from the scalp down and be gentle if you do come across any tangles. We find that using a wide tooth comb is much better to reduce frizziness!
Hydrate with a leave-in conditioning spray. If your hair is feeling extra dry, damaged, or brittle, use Briogeo's Leave-In Conditioning Spray (featured in the FabFitFun Spring Box) to condition it even further. It's infused with a unique blend of nourishing rosehip, argan, and coconut oils to restore your hair's softness, strength, and flawlessness. Simply spray it on the mid-length to ends and style like usual!

Avoid going to bed with a wet head. If you want to minimize the amount of time it takes you to go from bed head to ready to leave the house, avoid going to sleep right after a shower. That way, your hair will have time to dry before it ever hits the pillowcase. If you must go to bed with your hair wet (you're busy — we get it), pull your wet strands into a braid and wake up to loose beachy waves!

Sleep on a silk pillowcase. This goes for all hair types. Silk pillowcases reduce the amount of friction your hair endures as you toss and turn in the night. Switch to a silk pillowcase and wake up to less crazy hair and more of an "I woke up like this" vibe.
xx, The FabFitFun Team
P.S. Psst! Have you signed up for the #FabFitFun box yet? Don't miss out on $200+ in amazing beauty, fitness, fashion, and lifestyle products every season. Join today!
To get the most out of your box products, make sure to check out the Insider page.