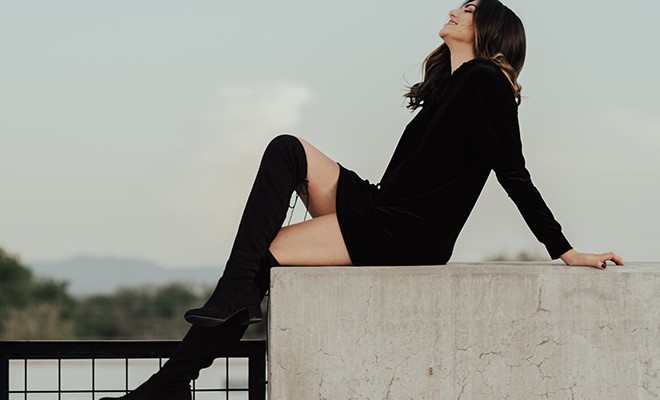 Kaci Baum
As temperatures cool and leaves begin to change color (gotta love the fall foliage), there's no better time than now to update your closet with the latest fall fashion trends.
Whether you're looking to step outside of your comfort zone this season or just need a little fashion inspo, here are 10 style must-haves for fall.
Pleats
This 2017 trend isn't going anywhere anytime soon. A pleated skirt or dress adds just the right amount of detail and frill for an elegant ensemble.
---
Extreme Manicures
There was no such thing as "too much" nail art on this year's runways. Nails with extreme designs, patterns, jewels, and piercings are going to be huge for fall.
---
Denim
Another year-long trend is the full-on denim look. Give this look a fall twist by pairing a denim jacket with a denim dress and tights or matching denim jeans.
---
Simple Braids
The popularity of corn rows and French braids reached a peak this year among celebs, but for fall, simple braids will take the lead. Braid a few strands and pull it back into a half-updo for an easy yet stylish look.
---
Thigh-High Boots
If you don't have a pair of thigh-high boots yet, you'll want to add it to your wardrobe ASAP. Style it with a sweater dress or wear it over skinnies for a layered effect.
---
Color-Blocked Lids
It's all about bold colors and making a statement with makeup. If you're hesitant to rock bold colors with your outfits, try it on your eyes to showcase your creativity and originality. You can ease into the trend by playing around with different colored eyeliners.
---
Cropped Hair
The lobs and bobs are in, ladies! If you've been on the fence for a while, now's a better time than ever to make the big chop for an edgy yet chic cut.
---
All-Around Eyeliner
Amp up your eye makeup with an all-around eyeliner. The black outline is enough to create a bold statement even if the rest of your look is plain.
---
Metallic Accents
If you haven't noticed it yet, makeup is bold this season. Be generous with your metallic eye makeup and apply a heavy amount so it doesn't look like you just dusted a bit of shimmer on your lids.
---
Plaid
Don't be afraid to embrace your inner school girl as plaid will dominate the fashion scene. If this year's runways are a good indicator of trends, plaid should already be popping up in your favorite retail stores.
xx, The FabFitFun Team