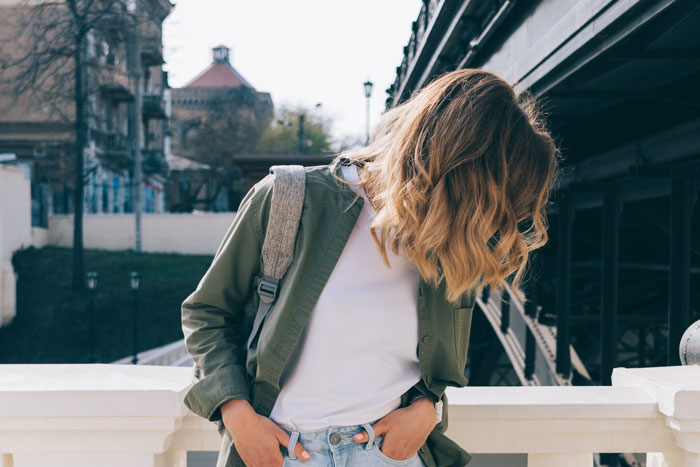 We've all been there – you just got the best blowout of your life, but then you remember you have a workout class booked that night. And, of course, of all the excuses to skip a workout, a great blowout seems as good as any.
But if you don't want to waste a good hair day or forgo your favorite sweat sesh, here are three expert tips to help you maintain your hair no matter how intense the workout is. #yourewelcome
Avoid top knots and dents
Cash Lawless, celebrity stylist at SEVEN Haircare, suggests pulling it up into a French twist to help prolong your blowout. He says, "Always opt for a French twist instead of a top knot or ponytail. A French twist takes the outside layer of hair and wraps it around the rest, protecting it from the elements while holding it in a flattering shape with no kinks when it's let down."
Be ready to sweat
"Since moisture is the biggest enemy of any blowout, I always tell clients to mist dry shampoo along the hairline and at the roots before they work out. This prevents oil from building up before it even has the chance to settle in," shares Lawless. If you want to preserve a wavy hairstyle, he recommends styling the hair in victory rolls during a workout and applying a healthy dose of dry shampoo like the SEVEN Haircare Cubica Dry Shampoo at night followed by foam rollers. Doing this allows the dry shampoo to fully absorb any oils while the foam rollers use body heat and the moisture in your hair to help preserve the waves and body. In the morning, brush it out, and your blowout will look brand new.
Cool down and refresh
"Keep a microfiber towel in your gym bag to gently absorb the excess sweat in your hair. Either wrap your head for a few minutes or blot the towel around your scalp and back of the neck to ensure you've soaked up all the sweat and moisture," informs Lynne McNelis, Founder of Fave4. Then use your blow dryer on the cool setting and spray your roots with a volumizing spray like the Fave4 Texture Takeover Oomph Enhancing Hairspray for that first-day blowout look.
Do you have any tricks for extending your blowout? Let us know in the comments below!
xx, The FabFitFun Team