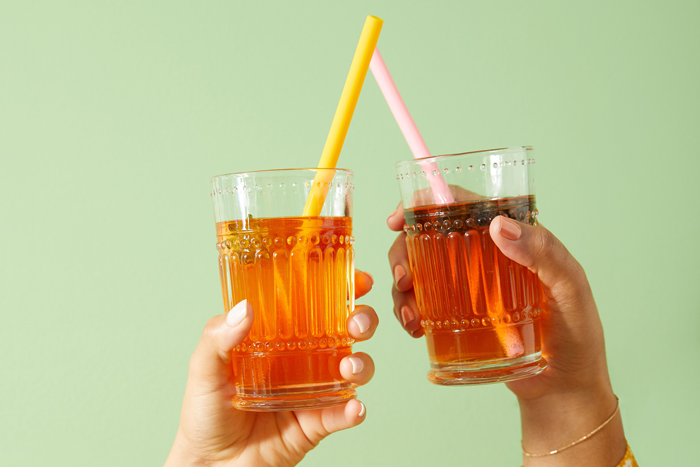 SPRING 2020 BOX PARTNER
Living a more sustainable lifestyle is much easier than many people think. It's not all about spending the extra money to get something organic or giving up something you love just because it's not environmentally friendly. It's about being more mindful about how much waste you're putting out there in the environment.
As Ashlee Piper, sustainability expert and author of Give a Sh*t: Do Good. Live Better. Save the Planet, tells FabFitFun, making small shifts in your daily routine can help you be more eco-friendly. For instance, composting, packing your lunch as much as possible, buying secondhand and investing in reusable products can make a lot of difference.
So if you're looking to be more environmentally-friendly this year, here are some easy sustainable swaps you can make.
Use silicone straws instead of plastic straws
We've all seen that viral video from 2015 of researchers struggling to remove a plastic straw stuck in a sea turtle's nose. In the years following, major companies like Starbucks, and cities across the United States, have banned single-use plastics like plastic straws. The straws you use to drink your daily cold brew or smoothie can really add up, and impact the environment in ways that you may not be aware of. Swapping those single-use straws for reusable ones can make a lot of difference. For instance, Chic & Tonic Silicone Straws come with four straws, a carrying case and brush cleaner. The best part? The straws are collapsible, so you can take it everywhere.
Shop at your local farmers market over the grocery store
"These are the best ways to get low or no-packaging items," Piper says. The plastic and styrofoam that food gets packaged in can be really wasteful. Besides, shopping at a farmers market is great for the local economy and it's usually easier on your wallet.
Use packing cubes instead of zip-close or plastic bags
One cheap and easy hack many people use to keep their luggage organized and spacious is to use zip-close bags or even plastic bags to keep things together. While zip-close bags and plastic bags can be reused, the reality is, they tend to get thrown away long before the next trip. So one easy sustainable swap to make is to get a set of packing cubes. The CALPAK Set of 3 Packing Cubes come in three sizes, fits perfectly in your luggage to keep it organized and they're super lightweight. You won't have to worry about compromising any baggage weight.
Swap your single-use coffee pods for a reusable coffee filter
Like plastic straws, single-use coffee capsules can end up in the ocean. But you don't have to give up your Keurig or Nespresso machine entirely to live sustainably. You may want to consider getting a reusable coffee filter to use every other day. It will not only help to preserve the environment, but you can save money on pods and switch up the types of coffee beans you use.
Use cotton towels instead of paper towels
Just think of how much money you throw away by using paper towels on a daily basis. You tear off a sheet, use it once and then toss it in the trash. It can get pretty wasteful really fast. With millions of trees being cut down each year for paper towel production, swapping paper towels for cotton towels, like Stone Cold Fox Tea Towels, can help you save money and the environment.
xx, The FabFitFun Team
Psst! Have you signed up for FabFitFun yet? Don't miss out on $200+ in amazing beauty, fitness, fashion, and lifestyle products, access to exclusive fitness and cooking content on FabFitFunTV, members-only sales, and more. Use code METAMORPHOSIS at checkout for 10% off your first box.
To get the most out of your box products, make sure to check out the Insider page.