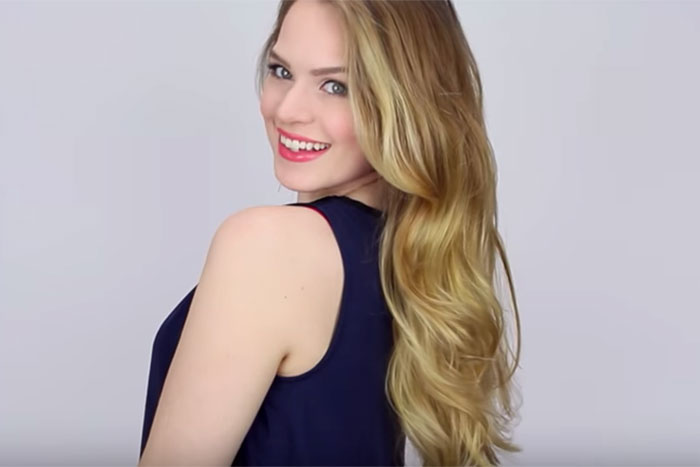 Feature Image by Kayley Melissa
What if you could wake up with perfect hair? Well, turns out, you actually can!
Ahead we curated nine hair tutorials you can do right before you hit the hay to wake up with gorgeous locks. It requires minimal setup, a bit of hairspray in the morning, and it'll help you minimize the amount of heat you apply to your hair. #yourewelcome
Mermaid Hair
Bring out your inner mermaid with some delicate beachy waves. Simply twist your hair by adding more strands after each twist (similar to a French braid), then finish it off by wrapping it around your head. Secure with an elastic band and a couple bobby pins.
---
Headband Curls
By twisting your hair around a headband before going to bed, you can create beautiful curls that will hold up all day.
---
Sock Bun Curls
You may be familiar with the sock bun for creating the perfect bun, but did you know that you can sleep with that same 'do to wake up with luscious waves? Yep, it's that easy.
---
Halo Curls
Similar to the sock bun, grab any old tee and roll it down into a "hair halo" that you can wrap your hair into — it works best on long hair!
---
Taylor Swift Curls
Remember those stunning curls Taylor used to be known for? Well, you can achieve the same look sans the heat. Just French twist your braid into two and go to bed — you'll wake up with the bounciest curls.
---
Straight Hair Trick
If you thought you could only get curls with overnight hairstyles, you thought wrong. Put down your straightener and grab some thick hair rollers instead. You'll be surprised at just how straight and frizz-free your hair can look without heat.
---
Paper Towel Curls
Who knew paper towels did more than dry surfaces? Get perfectly coiled poodle curls with just a few paper towels (the thicker the towel the better!).
---
Beach Waves
This one requires you to know how to do a Dutch braid. But if you don't, no worries — because it's easy to learn. Rather than folding one strand of hair over another, you're going to braid under for a three-dimensional effect.
---
Natural Waves
This is a simple and effortless way to create loose waves in your sleep while utilizing the most basic hair accessory: claw clips. This one's so easy, it's hard to believe how amazing your hair will look the next morning.
xx, The FabFitFun Team