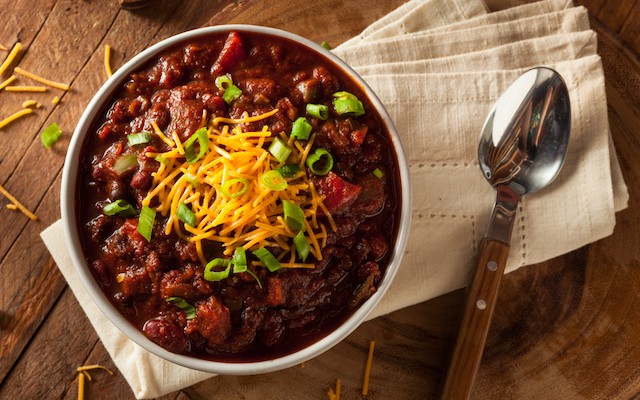 What do we reach for when it starts to get chilly? Chili!
Yep, nothing is more comforting than cozying up in a warm blanket with a big bowl of chili leftovers in hand binge-watching Grey's Anatomy. (BTW. Ashley Iaconetti will be recapping Grey's on our Snapchat this Thursday! Check it out @FabFitFun.)
This vegetarian chili recipe is hearty, healthy, and delicious — not to mention super filling (hello fiber!). One bowl of this chili, and you'll be good to go for hours. Though the ingredient list may be intimidating, this recipe is actually super simple. Simply let the pot do all the work for you while you multitask with other things around the house  — like pouring your friends more wine.
As always, we encourage you to have fun with our recipes. Add in your favorite veggies and tubers to switch things up (try roasted sweet potatoes and squash for the perfect seasonal treat)!
Chunky Veggie Chili
Ingredients
2 tablespoon extra virgin olive oil
28 ounce can of fire roasted tomatoes
1 cup canned crushed tomatoes (with juice)
2 tablespoons tomato paste
1 medium onion, chopped
8 cloves of garlic, minced
1 red bell pepper, diced
1 cup frozen corn, thawed
1 can black beans, rinsed and drained
1 can kidney beans, rinsed and drained
2 cups vegetable broth
2 teaspoons paprika
1 teaspoon cayenne
1 teaspoon cumin
1 teaspoon allspice
1 teaspoon turmeric
2 teaspoons chili powder
2 teaspoons desired hot sauce
Salt and pepper to taste
For Toppings
Avocado chunks
Green onion, chopped
Greek yogurt or sour cream
Shredded cheese of choice
Hot sauce
Directions
1. In a large crock pot or regular pot, heat olive oil on medium high heat, and toss in the onion, garlic, and salt and pepper to taste. Sauté until translucent, then add in the bell pepper, and cook for an additional two minutes.
2. Add in the the roasted tomatoes, crushed tomatoes, tomato paste, vegetable broth, paprika, cayenne, cumin, allspice, turmeric, chili powder, hot sauce, and liberal amount of salt and pepper to taste.
3. Let pot come to a boil, then reduce to medium heat and cover to let simmer for 30 minutes.
4. Once done simmering, add in the corn, black beans, kidney beans, and cook for additional five minutes or until the ingredients are cooked through.
5. Serve immediately, and add toppings.
xx, The FabFitFun Team