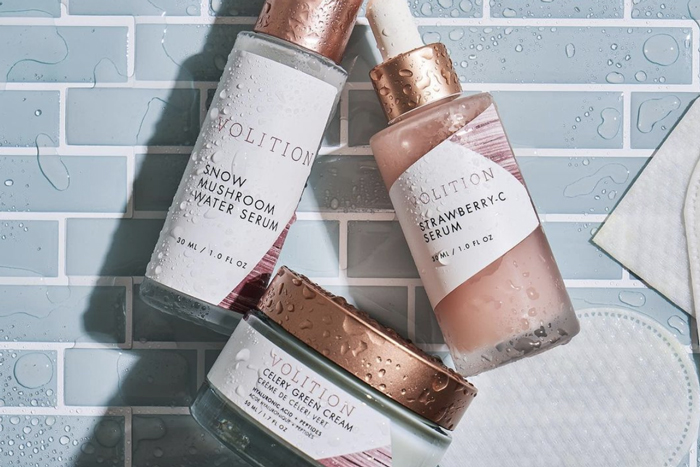 Feature Image by Volition Beauty
It's simply the best time of the year to save (like, seriously save) on bomb skin care brands. Since you're special to us, we thought we'd share some of our favorite skin care brands that are partaking in our Black Friday Sale right now.
The sale runs from Monday, November 23rd through Saturday, November 28th, with delivery guaranteed by Christmas.* Whether you're gifting yourself or someone you love, there's no way you're going to want to miss out on the lowest prices of the year. Top brands with deep discounts? Say less. If you're not a member yet, use code SHIMMER to access the sale and get 20% off your first box.
Let's get to shopping, shall we?
We'll say it until we're blue in the face — these winter months are harsh on the skin. That's why this dreamy serum is at the top of our personal shopping list. This serum works to tackle dry skin and clogged pores, and uses ingredients like chia seed extract and avocado oil to create glowing, supple skin.
---

 It's the power couple that puts all other power couples to shame (even Emily Blunt and John Krasinksi). The duo combines the power of lactic acid (an AHA) and retinol ester to exfoliate and brighten the skin for a visibly smoother, more radiant-looking complexion.
---
It's Volition's cult favorites in one pristine little box. The contents of this package are guaranteed to hydrate and assist with moisture retention, minimize the appearance of pores, and work to perfect overall appearance and skin texture. Perfect for dull, dry skin.
---
We love an overnight beauty hack. The lip mask works its secret superpowers while you're busy counting sheep. If you've got dry lips (don't we all), this overnight lip mask will replenish, hydrate, and calm, so you can wake up to soft, plump lips.
---

Do your skin a favor and treat it with care. This set offers a revitalizing micro-foam cleanser and facial massaging cleanser that removes sweat, dirt, and oil from your skin. Plus, it comes in a cute water bottle!
---

We love shots, especially when they don't give us hangovers. Enjoy a shot of youth with dr. brandt's unique 20% tri-blend concentrate of natural source and stabilized vitamin C. If you didn't know, 20% is the highest concentration of stable vitamin C your skin can absorb to help prevent premature aging.
---

 Stock up on sheet masks this holiday season. This best-selling mask comes in a pack of 10, perfect for treating those holiday stressors as they appear on your face. The face mask has a new and improved formula offering a 360-degree approach to treating dry or sensitive skin.
---
You don't want to miss out on this dynamic little duo. The Unpa Bye Bye Cica Balm + Serum is a perfect under eye pick-me-up. Destined to calm and moisturize, this serum relieves your tired and sensitive skin from all its hard work. Ingredients include a chia seed extract that works to absorb moisture, while panthenol increases the moisture level in the skin.
xx, The FabFitFun Team
*Orders shipped to the contiguous U.S. are guaranteed to arrive by Christmas.