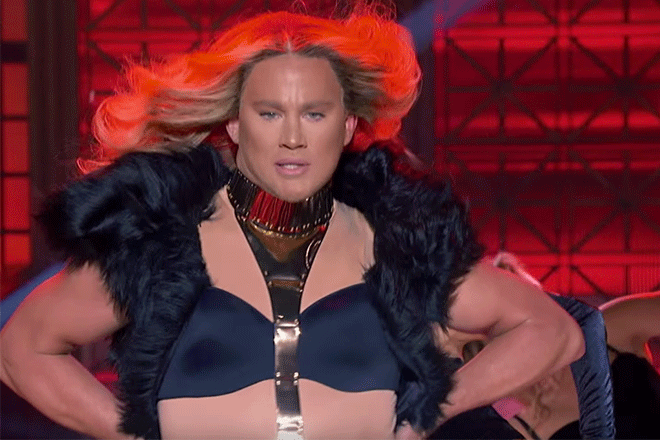 Grab your dancing shoes and hit the dance floor! National Dance Day is Saturday, July 30 and we're ready to boogie and get our groove on.
In honor of the holiday, we gathered some of the best dance videos that'll make you want to "shake whatcha mamma gave ya." Get inspired by these videos and show the world your amazing dance moves, girl!

Missy Elliot Tribute
Now that this Disney darling is all grown up, she's taking the dancing world by storm. Paying homage to her role in Missy Elliot's music video for Work It, Stoner shows she still knows how to get down.
---

Happy Tap Dance
The Pharrell Williams hit made everyone want to get up and dance, and this group is no exception. Their combination of energetic moves and addicting rhythms will have your feet tapping in no time.
---

Single Ladies (Put a Ring on It)
Not only did she create a stellar music video with a killer dance routine, Bey also gave the world a new dance. The Single Ladies hand movements are now a staple for dancers everywhere and the closest you'll ever come to dancing like the Queen.
---

Johanna Channeling Aretha Franklin
We could all take a lesson from Johanna. The adorable dancer proves that all you need to slay on the dance floor is the right attitude and a pink tutu.
---

So You Think You Can Dance Season 5 Kayla Kupono Contemporary Gravity Addiction
Sara Bareilles' hit song Gravity is already incredibly moving, but add this emotional choreography, and you've got a masterpiece. The raw emotion of the dance tells the tortured story of addiction which many can relate to.
---

Dirty Dancing – Time of My Life
Nobody puts Baby in a corner, especially when Baby has a crowd-pleasing performance to do. The iconic lift at the end of the routine has been recreated in movies and Instagram videos, alike. Who hasn't wanted to jump into BAE's arms and feel like they're flying?
---

Dancing with the Stars Season 21 Bindi Irwin & Derek's Freestyle(Finals)
Grab some tissues and get ready to ugly cry. Bindi Irwin's tribute to her father with partner Derek Hough is a heart wrenching combination of ballroom dance and never-ending love.
---

MY LOVE + Syncopated Ladies + Justin Timberlake = A Chloe Arnold/Sheryl Murakami Collab
If you thought tap dance was just for black and white movies, think again. These ladies are bringing sexy back with sensual choreography and current day songs to make tap dancing more modern than ever.
---

JK Wedding Entrance Dance
It may not be the most intricate dance you've ever seen, but it has the most joy and happiness. This video became an Internet sensation and started the wedding trend of dancing down the aisle. The Office even did a similar routine when Jim and Pam got married.
---

West Side Story – Prologue – Official Full Number
The cast of this Romeo and Juliet story sure knows how to bust a move. The opening scene depicting two rival gangs gives dance battles a whole new meaning.
---

"Evolution of Hip Hop Dancing" (w/ Jimmy Fallon & Will Smith)
Fallon's dance videos are always hilarious, but this Hip Hop video is truly awesome. Who knows Hip Hop better than the Fresh Prince of Bel-Air?
---

66 (Old) Movie Dance Scenes Mashup
The Bruno Mars anthem is the perfect song to make you want to get up and strut your stuff. The genius of this video shows that dance, no matter what age it's from, is truly timeless.
---

Channing Tatum & Beyoncé's "Run the World (Girls)" vs. Jenna Dewan-Tatum's "Pony" | Lip Sync Battle
The show has created some show-stopping numbers, but the husband and wife duo certainly gave us the battle to end all Lip Sync Battles. Channing's hair flipping sass and Jenna's sexy lap dance make for the most entertaining performance on the show.
xx, The FabFitFun Team