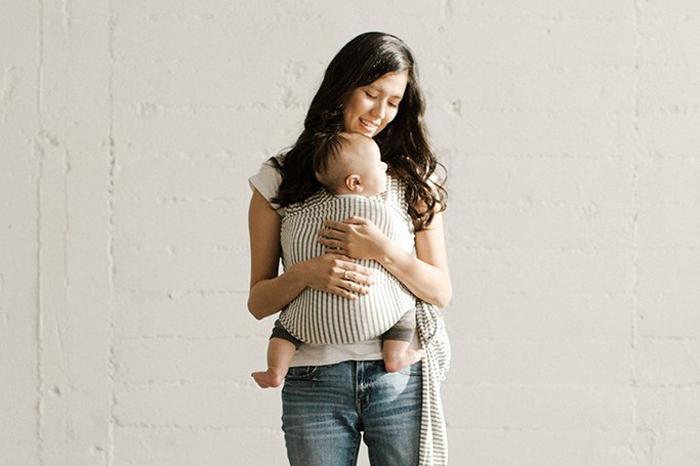 Feature Image by Solly Baby
Ever wonder what a mama-to-be actually wants to receive at her baby shower? While you might think an adorable pajama set or stuffed animal is the way to go, it might not be the most practical gift for a new mom.
So to help you on your search for the perfect baby shower gift, we compiled a list of items that are functional and fun for the entire family.
Gone are the days of bulky, not-so-stylish diaper bags. This backpack features a total of 13 pockets (some are insulated so you can store bottles and food) and it's cute enough to wear long after the newborn stage.
---
This adorable wrap does so much more than meets the eye. Shown to reduce crying by 43 percent and calm gas and reflux, this sustainable swaddle allows mom to be hands-free while promoting that special bond.
---
This all-in-one sleeper includes toys and soothing music to help the baby fall into a deep slumber.
---
This swaddle is specially designed to help moms tuck the little one into bed. The only question left is: Where can we find this in our size?
---
Finally, a bib that's waterproof. The silicon material and the catch-all design makes clean-up easy peasy.
---
Made of 100 percent rubber, Sophie the Giraffe is safe for babies to slobber all over.
---
Make bath time fun with this adorable tub, which helps infants sit up on their own.
---
This little gadget is a godsend. It makes feeding so much easier by warming up bottles and baby food jars in just minutes.
---
Diapers are not the cutest gift to give your preggo pal, however, there's no denying it's the most practical gift. Be sure to include varying sizes so she can have some on hand when the baby grows.
---
New moms are so busy feeding their child, sometimes they forget to feed themselves. Ensure mom and dad's tummies are full by sending them a tasty and healthy meal.
xx, The FabFitFun Team