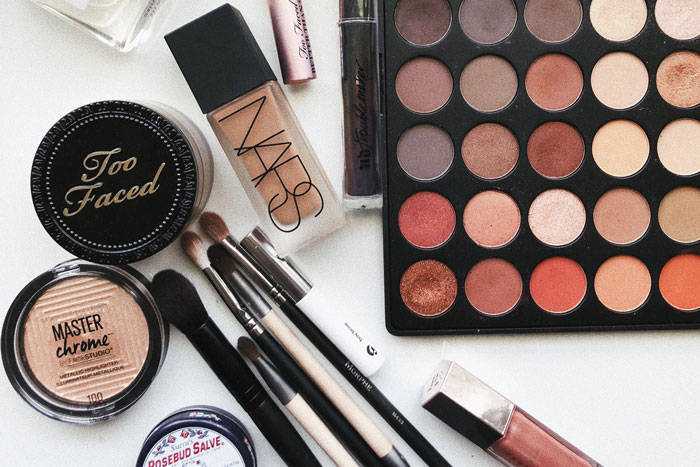 Feature Image by Jazmin Quaynor
Whether you're in need of a mascara, bronzer, or bold lipstick, shopping for beauty products at the drugstore is an easy and inexpensive way to fill your collection. But when it comes down to it, there are a handful of beauty products that are actually worth splurging on.
We asked five makeup artists to share the items they would never buy at the drugstore.
Foundation
"It's much harder to gauge how the product will look and feel on the skin since you often can't try it out for yourself in the store," says makeup artist and makeup educator Melissa Sassine.
"Foundation is another product that is worth investing in," says New Jersey makeup artist and beauty influencer Kat Gora. "Estée Lauder's Double Wear is one of my favorite foundations because it's great for all skin types, is oil-free, and non-acne genic."
Gel eyeliners
"Don't buy gel liners from a drugstore because it's usually not black enough and it dries super fast, not giving you enough playtime," says Juliana Fink of JFink Beauty. "My favorite gel eyeliner is from Inglot, it's the best I have ever used!"
Brushes
"You'll never catch me buying cheap makeup brushes," says Robin Black of Beauty is Boring. "Cheap brushes are typically poorly made with unethically-sourced animal fur or non-biodegradable synthetic hairs and toxic plastic handles. If all of that wasn't enough, cheap brushes just don't blend or apply product very well," says Black. "Instead, try the vegan makeup brushes from Urban Decay or Chanel," says Black.
Moisturizer
"Don't buy a commercial moisturizer. Instead, try organic jojoba from the health food store," says Kaye Tuckerman, former Creative Director of Inglot Cosmetics. "Jojoba is the closest to the oils produced by the human body."
Concealer
"A good under-eye concealer is always worth splurging on and I generally stay away from buying drugstore brands in this category," says Gora. "One of my favorite concealers is Laura Mercier Flawless Fusion Ultra Longwear Concealer. It provides buildable medium to full coverage while hydrating, brightening, and correcting the under-eye area."
Eyeshadow primer
"Nothing is as good as Too Faced Shadow Insurance Primer. Primers from drugstores or other brands are either too oily or too creamy that when the shadow is applied, it doesn't mix well," says Sarah Wood of Makeup by Woody.
Eyebrow pencil
"I found that some brands are too hard and need several swipes to show up or are too slick and rub off easily or fade quickly," says Wood. "I use Anastasia Beverly Hills eyebrow pencil because the wax formula glides on easily and locks into place for all-day, natural wear!"
xx, The FabFitFun Team