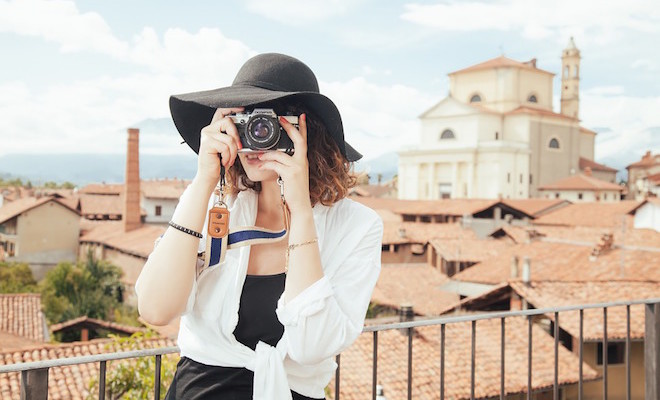 There's nothing more rewarding than traveling solo as a female. Hello, #womenpower. But before you jet, make sure your destination is safe. We tapped Britanny Carter, a travel expert for FlyingYak, which is the coolest new social platform catered to digital nomads and millennials, to give us some amazing insight.
Whether staying at a hostel, which Britanny suggests for making new friends, or a luxury hotel, check out her favorite places to travel as a solo female this summer:
Amsterdam, Netherlands
The lively nightlife ensures you can always find someone to party with and there are plenty of phenomenal shops, restaurants, museums or cafes for every taste. Despite being known as a city for vices, Amsterdam is also incredibly safe.
---
Siem Reap, Cambodia
Siem reap is a great stop if you're looking to experience a new culture but don't want to be overwhelmed by a huge city and need some comforts from home. You can enjoy the ruins of Angkor Wat and orange clad monks are seen on a daily basis. But you can still get your avocado on toast and easily meet fellow travelers if you feel homesick.
---
Buenos Aires, Argentina
Most female solo travelers are wary of South America but the Palermo neighborhood of Buenos Aires is very safe and taxis are inexpensive so taking a cab home when you've had a few drinks is a no brainer. Frequently touted as the "Paris of South America," Buenos Aires is a cultural gem with phenomenal food and is considerably cheaper than most major cities.
---
Sydney, Australia Sydney
Sydney is a great first stop for solo female travelers. Australians are known for their friendly and easygoing nature, and the cultural differences are minimal so you can easily make new friends and enjoy everything the city has to offer. This is definitely a good trip to ease yourself into solo travel.
---
Ubud, Bali
If you need a break from the day to day Ubud is full of healthy food, yoga, and spiritual retreats to recharge and redefine.
If you're looking for other fab destinations, check out FlyingYak's genius female safety feature to help steer you in the right direction.
xx, The FabFitFun Team