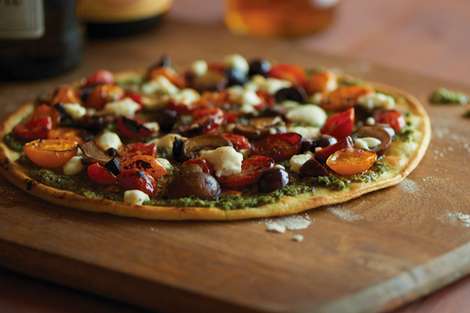 What's more fun than making a homemade pizza with your friends on a Friday night? Eating that same delicious pizza that took you no time to make!
The cooks over at Three Bridges let us in on one of their fave pizza recipes to share with you! With pesto in lieu of the classic marinara sauce, this dish has a little something special that you won't find at every other pizza joint. And instead of your standard pepperoni topping, we're upping the fruit and veggie content with mushrooms, tomatoes, and kalamata olives.
Buon Appetito!
Ingredients:
1 (12 inch) pizza crust
7 ounces container of Three Bridges Superfood Pesto
1/2 cup cherry tomatoes, halved
1/2 cup fresh mushrooms, sliced
1/2 cup kalamata olives, chopped
Fresh mozzarella cheese
Directions:
1. Preheat oven to 450º F. Place pizza crust on baking sheet.
2. Spread pesto over pizza crust. Add the remaining ingredients over pesto.
3. Bake for 15 minutes or until vegetables begin to brown. Cut into slices. Serve immediately and enjoy!
xx, The FabFitFun Team