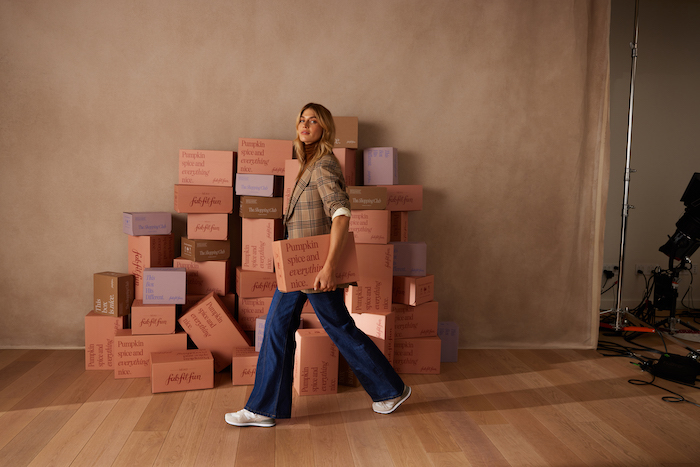 She's here and she's beautiful! We're welcoming fall with open arms, starting with the top-tier curation that is our 2023 Fall Box! We're about to combine our "on the go era" with our "cozy and comfy era," while throwing in lots of self-care moments. We're so ready for it!
Are you ready to FabFitFall in love with this box? Check out the full reveal below and don't forget that Annual Members can customize their boxes starting July 21 at 9am PT, and Seasonal Members starting August 4 at 9am PT! 
Customization 1 – All Members
All members get the chance to customize these options in their box.
1A. Our Place Tinted Wine Glasses in Two Tone or Solid (Set of 2) ($50 value)
Whether you're entertaining or cuddling up on the couch, these warm neutral tones will be your new fave way to serve up your favorite wine or fall-inspired mocktails. Pro tip: use the different colors as drink markers to keep track of your beverage all night long! Cheers!
1B. Alice + Olivia Duffle Bag in Regal Romance or Positano Stripe ($90 value)
Bags are packed and you're booked and busy this fall with the adorable Alice + Olivia Duffle Bag. A roomy interior and multiple pockets make this the perfect choice to carry all your essentials while you're on the go!
1C. Little Korboose Woven Throw Blanket ($60 value)
This California cool artisanal brand is cueing all the fall vibes. The Little Korboose Woven Throw Blanket is stylish, functional, aesthetically pleasing, and lightweight yet cozy enough to use year round. We firmly believe it isn't fall until we've added a new blanket to our collection!
1D. Murad® Hydro-Dynamic™ Ultimate Moisture ($83 value)
Your daily go-to for gorgeous, hydrated skin, the Murad® Hydro-Dynamic™ Ultimate Moisture is rich yet lightweight. Infused with Murad's Advanced Hyaluronic Acid Technology, shea butter, sunflower seed oil, coconut fruit extract, and avocado oil, it not only moisturizes, but helps minimize the appearance of fine lines. As the weather turns chillier, you'll want to amp up your hydration game, and this is a must!
1E. Living Proof® Triple Bond Complex ($45 value)
It's not that complex. A new addition to your weekly routine is here, and it'll inch its way to the top of your to-dos. This weekly leave-in treatment mask makes hair 8x stronger and more resistant to future damage.
Customization 2 – All Members
All members get the chance to customize these options in their box.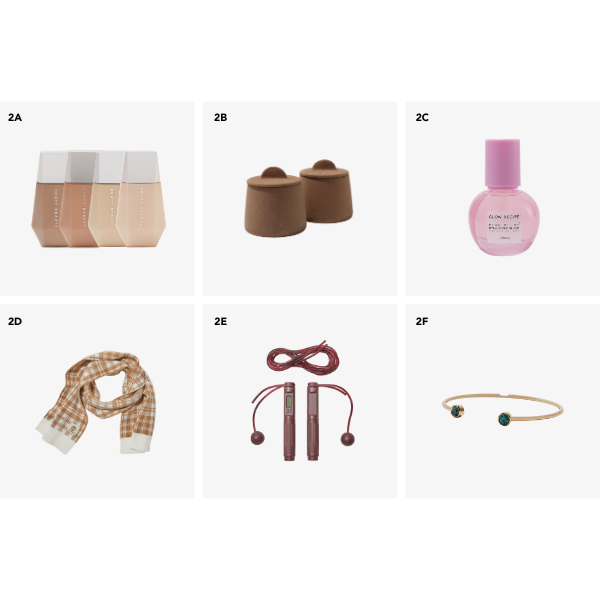 2A. Fenty Beauty – Eaze Drop'lit All-Over Glow Enhancer in Bronze Jasper, Honey Citrine, Taffy Topaz, Pink Pearl ($34 value)
While we're waiting for Rihanna's new album to drop (please!), we'll drop this into our Fall Box in the meantime. This multi-dimensional makeup must-have brightens skin, reduces the look of pores, and serves up the perfect soft glow when mixed with foundation or used as a base for your makeup.
2B. Citrine Spice Jars (Set of 2) ($30 value)
Add a little boho vibe to your fall festivities. These Citrine Spice Jars will come in handy whether you're serving up delicious sides, or need a little extra kitchen or countertop storage.
2C. GLOW Recipe Plum Plump™ Hyaluronic Acid Serum ($45 value)
You'll soon see why hyaluronic acid is a skincare game changer with this serum. Your skin will be plump and hydrated thanks to this plum-infused must-have, complete with next-gen hyaluronic acid that fill each layer of the skin.
2D. Timberland Buffalo Plaid Scarf ($60 value)

Your wardrobe (and Instagram feed) just got a fall makeover! Scarf season will soon be upon us and we couldn't be happier. Look cute while you stay warm as the weather turns chilly.
2E. Reebok 2-in-1 Digital Jump Rope ($40 value)
A fun fitness routine is just a hop, skip, and jump away when you snag this for your Fall Box. The digital counter tracks metrics such as time, calories burned, and rotations. All you need to do is jump to your heart's content and let it do the rest!
*UK restricted
2F. Alex and Ani Emerald Flex Cuff Bracelet ($45 value)
We absolutely love that each Alex and Ani bracelet has a message behind it, and this beautiful cuff represents luck and prosperity. With its shiny gold finish and special emerald touch, it's a beautiful finishing touch to any outfit. The flex cuff ensures a perfect fit and makes sure the bracelet retains its durability through time.
Customization 3 – All Members
All members get the chance to customize these options in their box.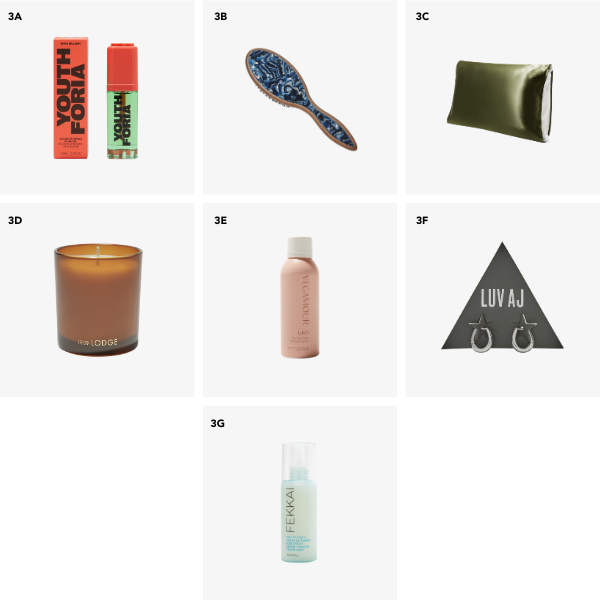 3A. Youthforia BYO Blush ($36 value)
Ok hear us out – this surprising product may look green in the bottle but it reacts to your skin's pH to give the perfect flushed look. It's making waves as the world's first color changing blush oil and will become a go-to in your makeup routine.
3B. Living Proof®  Smoothing Boar Bristle Hair Brush ($45 value)
We're always on the lookout for the perfect hair brush, and this boar bristle brush has made it to the top of our list! The bristles help spread hair oils through the scalp down to the ends, leaving your locks looking shiny, with minimal breakage.
3C. Silked Satin Travel Pillow Sleeve in Four Leaf Clover ($29.50)
Your beauty sleep just got an upgrade. You'll say bye bye bedhead and breakage and hello smooth, silky locks thanks to this must-have. Use it at home or bring it along with you to cover your pillows while traveling.
3D. Free People 1809 Collection Candle in Lodge ($40 value)
Fall is epitomized in this warm, cozy candle. The spicy, woodsy tones set the perfect ambiance for a cozy, fall evening. Transport yourself to a mountaintop lodge from the comfort of your couch.
3E. Vegamour GRO Dry Shampoo ($36 value)
Give yourself a little more time in your day (and between hair washes) with this plant-based dry shampoo. It absorbs oil and sweat, while revitalizing hair at the root.
*UK restricted
3F. LUV AJ Carmella Hoop Earrings – Silver Plated ($65 value)
Perfect for all your fall activities and soirees, these classic and stylish hoops are back for our silver girlies! The continuous hoop design and hinge closure keep them secure day and night! Stack them with other faves or let them be the star of the show – either way we can promise these are your new favorite earrings!
3G. Fekkai Super Strength + Protein PowerBond™ Mist ($30 value)
The PowerBond™ bond cure technology is key in this must-have mist, working hard to hydrate and repair your strands. This combined with PRODEW®500, a specialized amino acid blend that smooths and shines, will lead you to hair that is 2x stronger and 10x smoother! Perfect for all hair types that have severe damage, broken keratin bonds, and experience physical breakage with never-ending split ends.
Customization 4 – All Members
All members get the chance to customize these options in their box.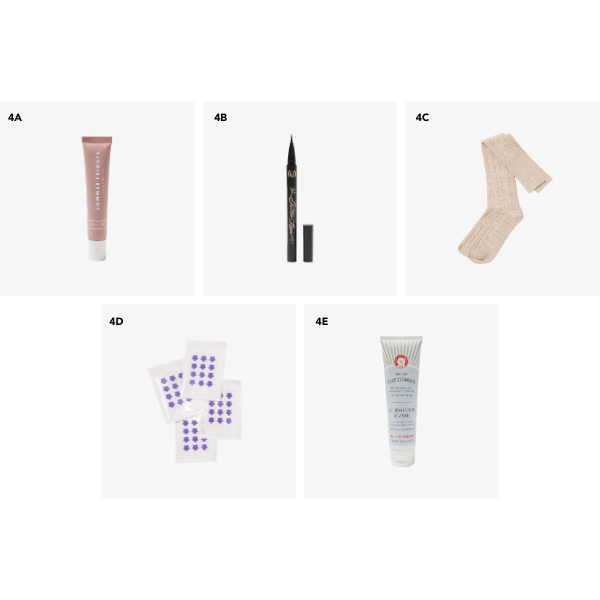 4A. Summer Fridays Lip Butter Balm in Vanilla Beige ($23 value)

We love a cozy vanilla scent in any capacity, from our lotions to our lip balm! It's safe to say this butter balm will be going with us everywhere this fall. It delivers needed hydration as the weather turns colder, all while giving off a sheer beige color that adds a subtle pop to any outfit.
4B. KVD Beauty Tattoo Liner Waterproof Liquid Eyeliner in Trooper Black ($25 value)
This award-winning liner's ultra-precise brush tips delivers perfectly straight, sharp lines for the perfect makeup look. It's smudge-resistant and waterproof so you can rest assured that your liner will look as great at the end of a long day as it did when you first put it on!
4C. Pudus Over the Knee Socks ($25 value)
Whether you're cozy on the couch or styling your fall 'fits with these over the knee socks, they're the best wardrobe staple for chilly weather.
4D. Blume Buds (48 Pack) ($30 value)
Say hello to your new little buddies! Clinically proven to zap most zits in six hours, these patches are a lifesaver when your skin needs a little boost. They're designed to draw out fluid and impurities within a blemish so your skin is calmer and clearer. Hydrocolloid works to create a protective seal over the skin and flattens acne, while salicylic acid unclogs pores and sheds dead skin cells for a healthier complexion.
4E. First Aid Beauty Face Cleanser ($24 value)
Perfect for sensitive skin, this gentle cleanser is non-stripping and Ph balanced to help maintain your skin's natural acidity.
Customizaton 5
Only Annual Members get to customize these options in their box. Otherwise, FabFitFun will choose the best option for you. Want to pick? Upgrade to an Annual Membership at fabfitfun.com/upgrade.
5A. Frank Body Cacao Coffee Scrub ($20 value)
Is there anything some chocolate and coffee can't fix? Now we can even use it to combat dry skin! Coffee grinds, cold-pressed oils, and organic cacao extract nourish, soften, and hydrate your skin, leaving you glowing.
5B. Darling Spring Salt & Pepper Shakers ($25 value)
A charming addition to any table, these adorable salt and pepper shakers add a fun and unique touch to your tablescape.
5C. Lujo Bar Eucalyptus Shower Steamers (4 Pack) ($22 value)
For your mind, body, and spirit, these shower steamers are specially designed to make aromatherapy part of your every day. They're activated by water and diffuse into the shower's steam, opening all your senses with the menthol and essential oil blend.
5D. Cuccio Somatology Botanicals Hand and Body Wash Sandalwood & Sage ($39 value)
Thoughtfully created for the ultimate self-care routine, this hand and body wash is designed to reduce daily stress and worry, thanks to the essential oil blend of sandalwood and sage.
Customization 6
Only Annual Members get to customize these options in their box. Otherwise, FabFitFun will choose the best option for you. Want to pick? Upgrade to an Annual Membership at fabfitfun.com/upgrade.
6A. Obé Waistpack ($40 value)
Hot girl walks aren't just for summer! This is such an easy way to carry all your essentials whether you're getting your steps in or running errands. The front zipper, adjustable straps, and mesh back make this bag extremely versatile, and the beautiful hunter green goes perfectly with any 'fit. Plus, you get one month of free online classes! 
6B. Verb Products Ghost Prep Heat Protectant ($20 value)
Prime, prep, and protect your hair at high temperatures, up to 425 degrees fahrenheit. Key ingredients such as Glycerin, Moringa Oil, and pro-Vitamin B5 will lead to locks as moisturized and healthy as they are beautiful!
6C. Cover FX Custom Enhancer Palette ($42 value)
We're always doing a million things throughout the day, so we need makeup that works just as hard as we do. Cover FX took three of its best selling shades of their Custom Enhancer Drops and made them into pressed powders. Blend all over for a bright, glowing look, or use them for targeted highlighting on the high points of your face. This clean and talc-free product gets you looking and feeling great for the day ahead in one convenient compact!
6D. Nécessaire The Body Lotion ($28 value)
Don't take on the changing weather without the perfect lotion by your side (and on your skin). The Necessaire Body Lotion is infused with facial-grade oils that reverse dryness and replenish the skin with much needed nutrients.
6E. The Lyfestyle Co. MOOD Perfume ($40 value)
In the mood for a new fall scent? We got you! Jasmine, cedar, saffron, and amber work perfectly together to create this timeless, elegant, and sophisticated scent.
*UK restricted
Need these products in your life? We get it! Join now for 20% off your first box with the code GOODIESGALORE!
xx, The FabFitFun Team