There are many things you can do to celebrate the Fourth of July with your friends and co-workers…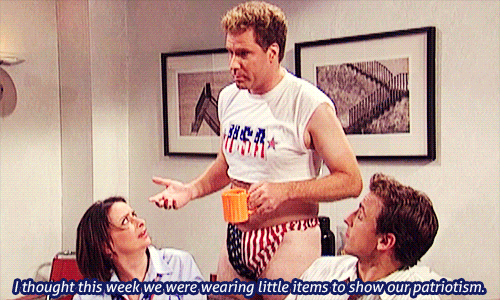 But just because the holiday falls on Casual Friday this year doesn't mean you have to strip down to just stars and stripes. In fact, we think your buddies would much prefer that you simply made them a patriotic cocktail. So we've found a few of our fave red, white, and booze-filled concoctions for you to serve up on the Fourth.
And hey, maybe if they drink enough of these delish drinks, they won't even notice that you're wearing an American Flag thong.
CÎROC Red Berry Sangria
(Pitcher Recipe)
Ingredients:
10 ounces CÎROC Red Berry vodka
10 ounces rosé wine
4 ounces fresh lemon juice
5 ounces simple syrup
20 ounces berry tea
Directions:
Stir over ice in 64-ounce pitcher
(Single Cocktail)
Ingredients:
1 ounce CÎROC Red Berry vodka
1 ounce rosé wine
1/2 ounce fresh lemon Juice
1/2 ounce simple syrup
2 ounces berry tea
Directions:
Stir over ice in wine glass
---
Ingredients:
1 1/2 parts SVEDKA Vodka
1 part watermelon Schnapps
1/2 part cranberry juice
1/2 part lemon juice
1/2 part simple syrup
1/4 part blue curaçao
Soda water
Directions:
1. Build in the glass
2. Add watermelon Schnapps and cranberry juice over ice, then carefully add lemon, simple syrup, and SVEDKA as to create the white layer
3. Very carefully layer the blue curaçao to create the color separation, and gently top with soda
4. Garnish with fresh watermelon pieces
---
Basil Hayden's Stars and Stripes Spiced Ice
Created by Chris Wilkins (Louisville, KY)
Ingredients:
2 parts Basil Hayden's Bourbon
1 part simple syrup
1/2 lemon, juiced
1 inch of vanilla bean
5 basil leaves
1 basil sprig
Directions:
1. Combine Basil Hayden's Bourbon, simple syrup, lemon juice, vanilla bean, and basil in a blender
2. Add ice and pulse until ice is pea-sized
3. Pour into a rocks glass
4. Garnish with a sprig of basil
---
Cruzan Independence Blend
Ingredients:
2 parts Cruzan Estate Diamond Light Rum
1 part Coco Lopez Cream of Coconut
4 parts fresh pineapple juice
1/2 banana
1/2 part strawberry purée
12 parts ice
Directions:
1. Add all but the strawberry purée to a blender and blend until smooth
2. Pour strawberry purée in the bottom of a large glass and add blended mix to combine
3. Garnish with an American flag
xx, The FabFitFun Team