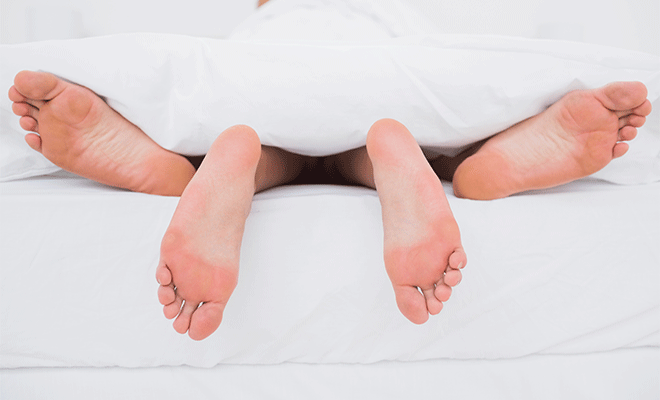 Nothing is more awkward than your man "finishing" too quickly in bed. Even if you don't care, it can send him into a mood and bruise his ego.
And as luck would have it, it usually takes women longer to reach an orgasm than men. But if you follow the tips below, your man can last longer which means you'll have a better chance at reaching the big "O."
Under or Over
According to Debby Herbenick, PhD, and author of Sex Made Easy, men seem to last longer when you stick to missionary or girl-on-top positions. Switching to positions like doggie style might get him riled up too quickly. How can you blame him though? That position really shows off your best assets!
Spray Your Way
If your man can last longer, that means you have a better chance at orgasm. Men have recently been turning to a topical spray called Promescent which is applied to the penis just ten minutes before sex to help desensitize it. A study in the International Journal of Impotence Research found that "sex lasted for 11.16 minutes when Promescent was used, compared to 6.81 minutes without it." We're not talking tantric sex here — just a few more minutes of bliss for you and your man.
Watch Your Speed
What if your guy isn't down for a spray? That's OK. There are other ways to keep things from ending too quickly. Try slowing things down. It might be hard when you're in the heat of the moment, but it can help him last longer. Switch between fast and slow movements to keep him out of his head and on his toes.
Move Your Bodies
Switching positions is also a great way to take a break without actually taking one — that little bit of time can make a big difference. Alternate between oral sex and penetration to keep him focused on everything but finishing.
Get Him off to Keep Him On
It sounds counterintuitive but it can work! If you guys have the time, get your man off orally and skip going all the way. After a bit of time you can jump back in and have sex that lasts longer due to the initial "first round."
xx, The FabFitFun Team