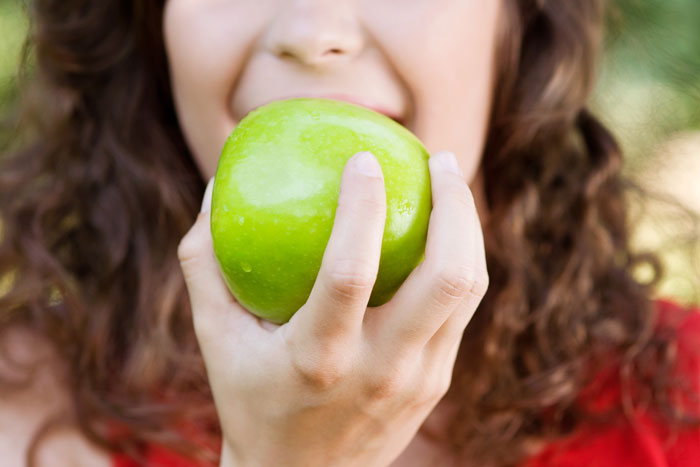 Aside from eating an apple a day to keep the doctor away, you should also be munching on the delicious fruit for its beauty benefits — green apples, to be specific. The crisp, refreshing fruit packs some serious punch when it comes to maintaining gorgeous skin.
From fighting off wrinkles to providing natural sun protection, check out all of the surprising beauty benefits of green apples below.
Fights wrinkles
Due to the fact that apples are chock-full of antioxidants, they will help keep your skin elastic and fight off the aging process.
Improves skin texture
Green apple, when used in a mask or moisturizer, provides ample moisture and will improve the overall texture of your skin.
Whitens and brightens
Because of its compact vitamin content, green apples will help whiten and nourish the skin. Say hello to a bright, healthy glow.
Provides a vitamin C boost
Since they contain a plentiful dose of vitamin C, apples help make collagen, which is a necessary component of skin and its waterproof barrier.
Combats acne
Yep, regular consumption of green apples will help control and fight off acne.
Provides natural sun protection
Apples contain copper, which produces melanin, the pigment that colors your skin and protects from ultraviolet sun rays. You should still always wear SPF, of course!
xx, The FabFitFun Team
P.S. If you want to reap even more benefits of green apple, the Juice Beauty Green Apple Peel Sensitive in the Winter Box will brighten your skin and leave you with a glow. Want to try similar beauty products? Sign up for your first FabFitFun box today!