Back in the old days, skateboarding used to be considered a dude's sport. But these days, ladies on wheels are making big moves. (And we don't mean falling to your back as the board flies out from underneath you.)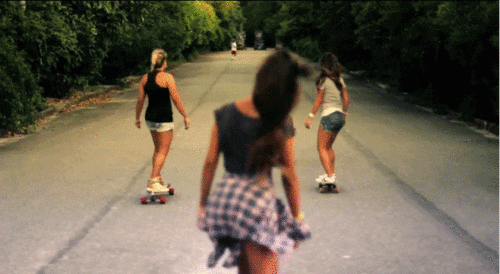 Nope, these gals are serious about their skateboarding. In fact, this weekend pro skateboarders from all over the world will gather in Austin, Texas to compete in the acclaimed X Games hoping to snag a win. One competitor that we'll be keeping our eye on is Leticia Bufoni, from Sao Paolo, Brazil. Though she is among the new generation of women skateboarders, she has quickly become the top contender to beat. A six-time X Games medalist, Leticia is known for landing huge, burly tricks, and skating with a Brazilian surf-influenced style that is equally awe-inspiring.
Of course, it's not all fun and X Games. Leticia trains hard to keep her bod, and specifically her gams, in top condition to land her impressive tricks. We got the scoop from this pro on her #legday workouts!
Balance training
Balance training is the most important thing I focus on for skateboarding. It's important that I work specifically on my ankles…here are some exercises that I do:
Standing on one leg: Hold for 30 seconds, working up to one minute per leg.
Balance and catch: Standing on one leg, catch and throw a ball with a partner. Make certain to throw the ball right, left, high, low. Perform three sets of 30.
One-leg mini squats: On one leg do a half squat with the opposite leg out front for 10 reps, out to the side for 10 reps, and behind for 10 reps. Repeat three times.
Ankle strengthening
Resistance training: Another thing I do to strengthen my ankles is use a thera-band for resisted range of motion (which can be bought at any medical store). Place the band around the top of your foot and curl the toes at the end of the movement to work the internal muscles of the foot. Perform three sets of 20 in each direction.
xx, The FabFitFun Team