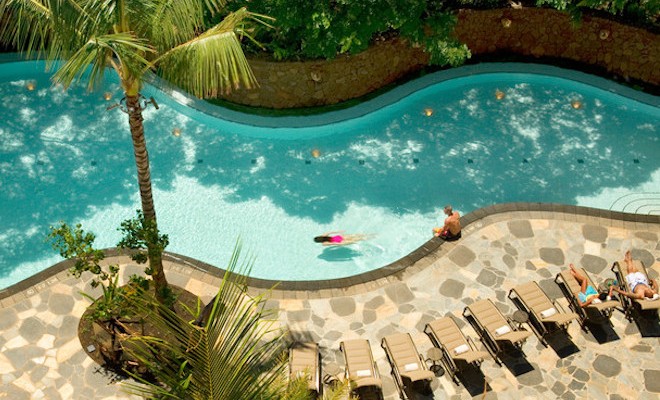 If you're looking to treat yourself (and get out of the winter cold), we've got one word for you: vacation. And if you think you're too old for a fun-filled Disney vay-k, think again. We've been splashing around Oahu and wanted to share the best getaway that surely won't disappoint.
From macadamia nut pancakes to swimming with dolphins — and even sampling some of the island's most prized cuisine — here's a list of all the things you should eat and see during your time in Oahu.
Aulani, Disney Hawaii Resort
There's only one lodging place you should consider — especially if you're a Disney fanatic: Aulani — a Disney-centric resort and spa located in Ko Olina on Oahu. Think lazy river pools, island cocktails, character breakfasts, and then some — all set in an idyllic oceanfront setting.
---
Macadamia Nut Pancakes
Do not leave the island without indulging in an order of Buttermilk Pancakes from 'AMA'AMA. We can attest they're the best way to start any vacation day — because the macadamia nut vanilla sauce is the most delicious thing you'll ever taste.
---
Ahi Poke Trio
Monkeypod, the brainchild of Peter Merriman, who basically started the regional Hawaii cuisine movement on the islands, is the place to go when it comes to local fare. Order the Raw Bar Mixed Plate, as it comes with a trio of ahi poke, coconut ceviche, and tako poke, so you can taste a few different things at once.
---
Pineapple Drink
If you want to escape the entire world, head to Aulani's adult pool with a pineapple drink in hand. Spiked or not, it's true: everything tastes that much better when sipping out of an island fresh pineapple. Craving a boozy option? Try the Liliko'i-lada, which features a mix of rum, cream of coconut, passion fruit, and pineapple.
---
Swim With Dolphins and Turtles
Book a catamaran experience on the Ko Nau Lani and you're guaranteed to have the most adventurous afternoon. You'll set sail from Waianae and be in turtle and dolphin country in no time. Once the boat anchors, pop on snorkel gear, jump in the salty ocean, and get excited to see the most beautiful, brightly colored fish ever.
---
Experience a Luau
If you've been to Hawaii, chances are you may have experienced a not-so-great luau. But don't expect to be disappointed at a Disney luau. We were recently mind blown after witnessing their brand new KA WA'A luau. From kakau tattoos and flower arranging classes to the best Hawaiian fare around, there are endless activities to keep you entertained.
---
Make Your Own Beauty Scrub
After a refreshing day at the spa at Laniwai, partake in a complimentary beauty product making lesson at Pulu Bar. You can learn how to make an amazing body scrub that will keep your skin gorgeous and glowing. It's a great souvenir to take home, as it's chock full of island ingredients like kukui nut oil and Hawaiian herbs.
xx, The FabFitFun Team